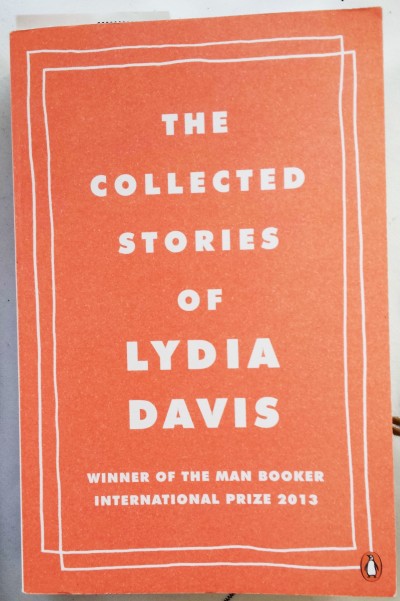 Det er visst atskillig lettere å dele ut smakbiter, enn å skrive om bøker man har lest ferdig. Eller i det hele tatt å lese ferdig bøker. De siste ukene har det vært dårlig med det sistnevnte, det skyldes nok kombinasjonen av tilgjengelig tid og antall bøker som forsøkes lest i parallell.
I helga har jeg lest litt i "The collected stories" av Lydia Davis. Forfatteren var ukjent for meg inntil jeg leste dette intervjuet med henne i Morgenbladet i fjor høst. Da skjønte jeg at jeg måtte få lest noe av henne.
Lydia Davis skriver korte fortellinger, noen på mer klassisk novelleformat, mens andre historier ikke passer inn i det klassiske novellebegrepet, og noen av de korteste fortellingene består kun av et par setninger. Som hun sier selv i et intervju i nationalbook.org:
I do not ever really think in terms of a book, but only in terms of an individual story, one story at a time. I write a story in whatever form seems to be demanded by the subject matter, and that is why some are so short–how much, really, can you say about this fly on the wall of the bus or this notice in a hotel room? Some of my thoughts or reactions are very brief, and their brevity is actually part of what I enjoy about them.
Smakebiten jeg tenkte å dele er historien "The Fish" fra "Break it down" (1986).
The Fish
She stands over a fish, thinking about certain irrevocable mistakes she has made today. Now the fish has been cooked, and she is alone with it. The fish is for her – there is no one else in the house. But she has had a troubling day. How can she eat this fish, cooling on a slab of marble? And yet the fish, too, motionless as it is, and dismantled from its bones, and fleeced of its silver skin, has never been so completely alone as it is now: violated in a final manner and regarded with a weary eye by this woman who has made the latest mistake of her day and done this to it.
Flere smakerbiter finnes som vanlig hos Flukten fra virkeligheten.