Ettersom jeg er en ganske fersk bokblogger er dette min aller første smakebit.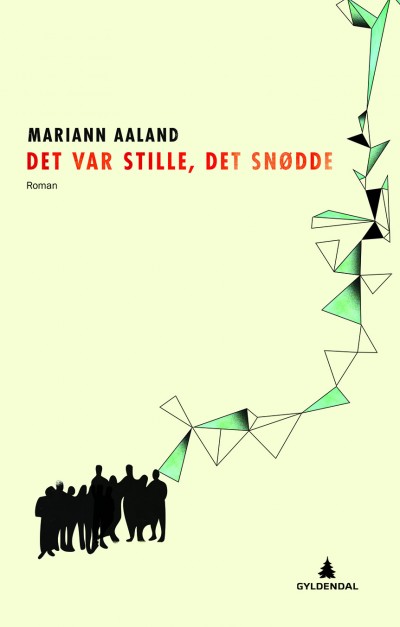 Det er Flukten fra virkeligheten arrangerer "En smakebit pÃ¥ en søndag", og der kan du se alle de andre smakebitene ogsÃ¥.
Akkurat nÃ¥ leser jeg "Det var stille, det snødde" av Mariann Aaland. Boka er forfatterens debutroman, og begynner med at hovedpersonen, en ung kvinne, finner faren død. Han har tatt sitt eget liv.
Jeg er fortsatt i startfasen av boka, men så langt liker jeg boka veldig godt. Det er gode dialoger og skildringer, og mange gjenkjennende elementer.
Jeg måtte smile godt da jeg møtte på følgende setning:
Jeg gikk inn i det rommet som vi alltid hadde kalt kjellerstua, men som bare var et nakent og litt kaldt rom som fungerte som matbod.
Jeg har nemlig selv vokst opp i et hus med akkurat en slik kjellerstue, vi kaller rommet kjellerstua, men det brukes bare som bod.
Smakebiten jeg har tenkt å dele er fra da hovedpersonen i boka har kjørt til togstasjonen, og sitter i den kalde bilen og venter på at kjæresten Anders skal komme med toget.
Toget kom i spor to. Dørene gikk opp, passasjerer tøyt ut. De fleste av dem skulle sannsynligvis videre vestover med buss. Jeg la hendene mellom lårene mine for å varme dem. Passasjerene kryssa spor én i en ujevn rekke på to og to, som om de alle hørte sammen. Anders gikk et stykke bak, ved siden av en eldre dame i rød kåpe. Hun bar to store bager og en liten håndveske. Anders hadde bare en ryggsekk og en hvit plastpose, praktisk talt begge hender fri. Han kunne vel ha hjulpet henne.