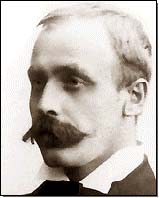 Jeg var på en togtur tidligere i uka, og da jeg gikk tom for lesestoff var veien kort til eBokBib-appen på mobilen. Jeg bladde tilfeldig rundt i lista med lånebøker, og oppdaget at det var mange gamle bøker der. Boka "To novelletter" av Sigbjørn Obstfelder fanget min oppmerksomhet, og ble lastet ned. (Det viser seg at de gamle bøkene kommer fra http://www.bokselskap.no/, som tilgjengeliggjør norske originale tekster der opphavsretten har gått ut. Det er jo supert! )
Boka inneholder to korte noveller om forelskelse og kjærlighet. De er begge skrevet i jeg-form, og vi får del i fortellerens ensomhet og rotløshet, etterfulgt av  forelskelse og usikkerheten knyttet til om forelskelsen gjengjeldes. Den ene novellen ender tragisk, mens den andre ender i et kjærlighetforhold. Det er  utrolig mange vakre skildringer i novellene, og det var en sann fryd å lese de.
Månen stod mellem de to aspe. Som smilet hos en sovende kvinde lå dens skin over jorden.