Noen ting må bare strikkes med en gang man kommer over oppskriften, og det gjaldt veldig for dette søte reveskjerfet.
Superenkelt å strikke, og et supersøtt resultat. Jeg passet på å strikke sammen revemunnen så jeg slapp å sy til slutt, og jeg har også plukket opp masker til ørene.
Oppskriften er på finsk, men med google translate og litt intuisjon går det fint, man kommer dessuten langt bare med skissa i bunnen.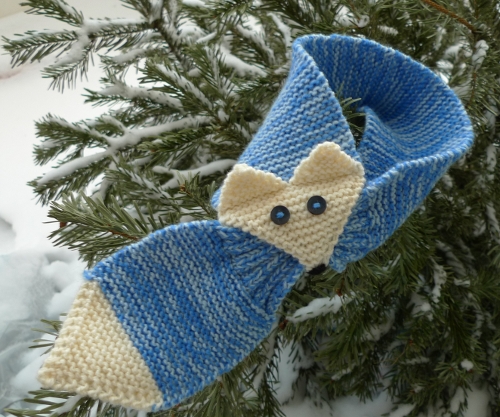 Pattern: Pattern in Finnish
Yarn: Two strands of Gjestal babyull
Needles: 3.5 mm

I came across the pattern for this supercute scarf, and I, of course, had to make it right away. My 4-year-old boy was very happy with it. Supereasy to make, I made it without any sewing of pieces at all.