Votter til poden blir det tydeligvis aldri for mange av. Noen blir fravokste, andre blir sporløst borte i barnehagen. Men ikke så galt at det ikke er godt for noe, det gir jo en god anledning til å få strikket litt 🙂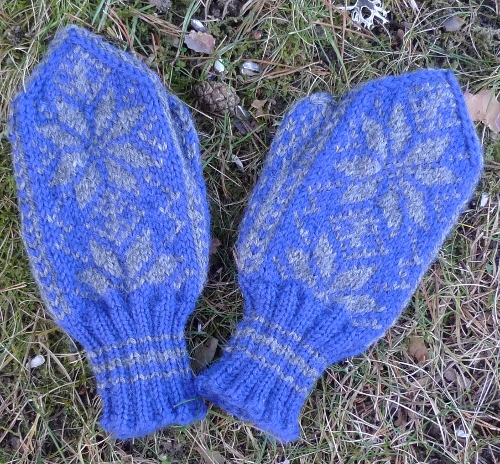 Jeg fant ikke igjen Raumaheftet med oppskrifter jeg hadde tenkt å strikke fra, men ved å mikse sammen 2-3 andre oppskrifter og improvisere litt har det blitt et par selbuvotter som passer fint til en 4-åring, og de vil kanskje også passe neste vinter.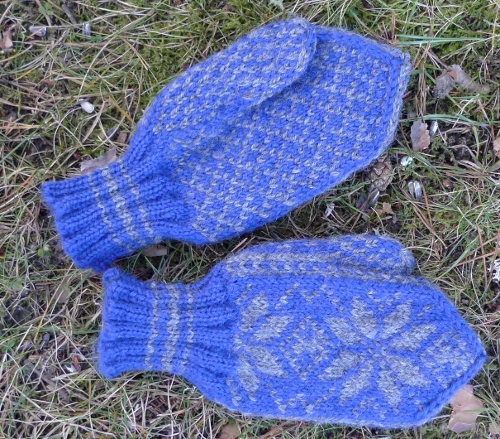 Pattern: Inspired by other patterns, but with own adjustments.
Needles: 2.5 mm and 3.5 mm
Yarn: Mor Aase ullgarn
A sketchy pattern
Cast on 44 stitches on 2.5 mm needles, and work k2 p2, first 7 rows of blue, 1 row grey, 2 rows blue, 2 rows grey, 2 rows blue, 1 row grey, 7 rows blue.
Change to 3.5 mm needles, and knit on row and one the same round evenly increase the number of stitches to 48.
Knit according to the charts, and increase for thumb gusset as indicated. When the last row of the thumb gusset is worked, place the 11 gusset stitches on a holder or a piece of yarn, and cast on 3 new stitches over the hole on the next round, continue working the charts. Cut the ends, and pull the yarn through the remaining 8 stitches.
Thumb: place the 11 stitches on two needles, and pick up 9 new stitches from the other side of the opening. Knit following the thumb chart.
Knit the other mitten, but make sure to knit the inside of the mitten reading the chart in the opposite direction (from left to right), to get the thumb on the other side.