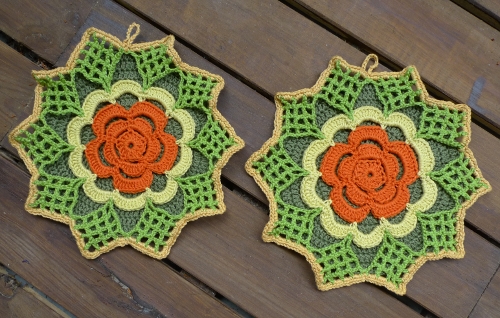 Jeg har fortsatt min copycat-virksomhet, og heklet et par grytekluter etter et bilde jeg kom over på nettet. Jeg synes det er spennende med gamle grytekluter som inneholder teknikker og mønstre som ikke brukes så ofte lenger, her ble jeg blant annet fascinert av den grønne gitterborden.
Gryteklutene består av et bakstykke av staver, og forstykket er kun festet til bakstykket på den siste omgangen med mørkegul farge. Jeg var redd forstykket ikke ville holde seg ordentlig på plass og at det ville bli slarkete, men det var visst en grunnløs bekymring. Gryteklutene er dessuten tykke og gode til tross for at forstykket er såpass luftig som det er.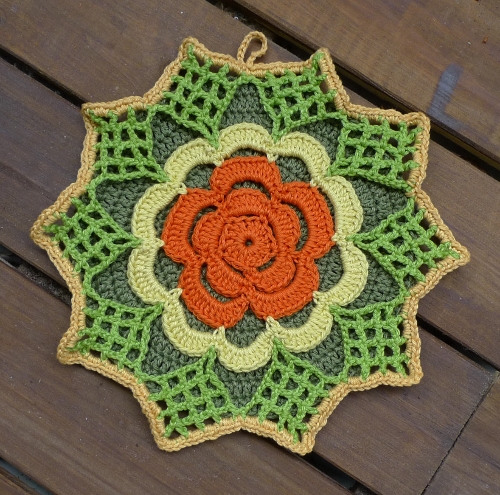 Pattern: Made from a picture, without pattern
Yarn: Gjestal bomull sport
Hook: 3.0 mm

I came across a picture of these pot holders, and I had to try to make them. I'm fascinated by old pot holders which is made with techniques and patterns rarely used any more. I was worried that the front and back pieces would not keep well enough together since they are only joined on the last round, but it actually works very well. The pot holders also feel thick, and good to use, even though the front piece is not so solid.