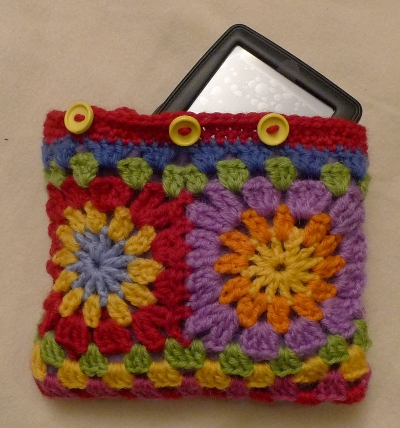 Jeg har lenge lovet å lage et gps-trekk til søster etter at hun så vårt gps-trekk. I dag kom hun på besøk med splitter ny gps, etter at den gamle ble stjålet i forrige uke, så da var det bare å brette opp ermene.
Jeg hadde noen 2-runders startrundinger igjen fra heksagonteppet, som jeg konverterte til firkanter samtidig som jeg heklet de sammen, og med noen ekstra runder over og under ble det bredt nok til gpsen. Etuiet er fôret med filt, og fôret er festet ved at jeg sydde tungesting rundt kanten, og heklet disse stingene med på neste hekleomgang.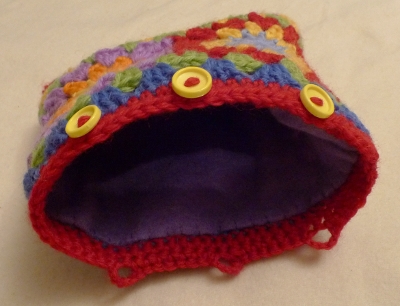 My sister came to visit us today, with her new car gps, since her previous one was stolen from her car last week. I've promised to make her a cover for her car gps for some time now, so I had to do something about that today,
I had some leftover discs from my hexagon afghan, which I made into squares and crocheted together at the same round. Then I needed some more rounds at the top and bottom to make the cover high enough.
The inside is covered with felt, which I crocheted into the edge by first embroider blanket stitch along the felt edge, and the crochet through the top of the blanket stitches.