Vinteren kommer alltid like brått på her i huset, og forrige uke var det flere handlerunder for å sikre at Lars ihvertfall har det han trenger til barnehagen. Strikkepinnene fikk også fart på seg, og en hals og et par sokker har sett dagens lys.
Halsen er Ambitus, og sokkene begynte med oppskrifta fra Nøstebarnboka, men hælen og tåfellinga er fra Universal sock pattern, som både har hælen og tåfellinga jeg liker aller best.
Lars var ikke helt i prøvehumør i dag, heldigvis var Hr. Rev villig til å posere i balkongkassa med hals og sokker.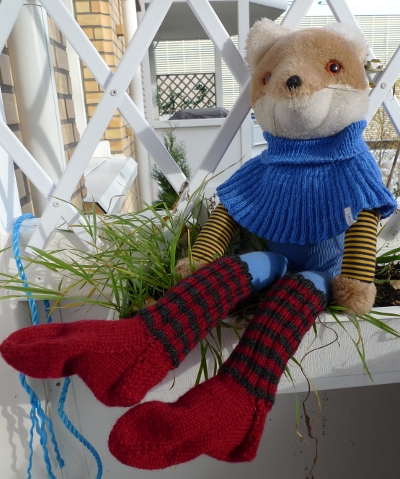 Patterns: Ambitus ~ Universal sock pattern
Needles: 2.5 mm ~ 3.5 mm
Yarn: Gjestal babyull ~ Perfect and Mor Aase superwash from Sandnes garn

It is getting colder here in Norway now, and my boy needed new socks and a new neck warmer. The neck warmer is Ambitus, which seems to fit very well, and the socks started out from a pattern in a book, but the heel and the toe is from Universal sock pattern, which has both my favorite heel and my favorite toe.