Jeg tok med meg en halvferdig sokk som eneste feriestrikketøy i håp om at den stakkars sokken (og dens make) omsider skulle bli ferdig, etter å ha ruget i en strikkemappe et års tid.
Det viste seg at sokkeparet ble fort ferdig, og et nytt måtte på pinnene sporenstreks, i tillegg har jeg gravd fram en annen sokkeufo jeg også har planer om å fullføre. Det kan ikke skyldes solstikk, men noe har skjedd med sokkestrikkelysten min, så her gjelder det å smi mens jernet er varmt 🙂
Pattern: Nine-to-Five Socks
Yarn: Fabel from Garnstudio
Needles: 2.5 mm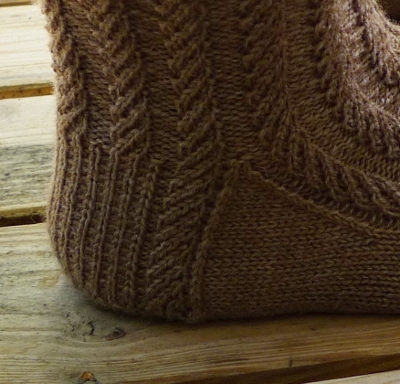 Detaljbildet fra sokken viser den forsterkede hælen der man har tråden foran arbeidet når annenhver maske tas løst av, og langs siden på hælen er kantmaskene plukket opp ved å stikke pinnen inn fra baksiden, som gir en fin kant.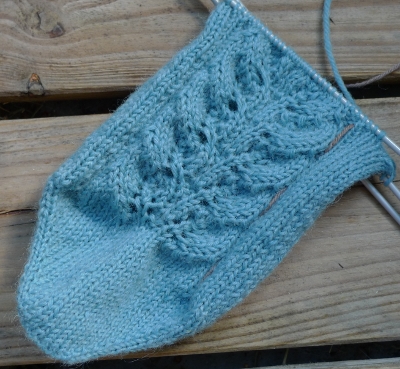 De påbegynte sokkene mine er Baudelaire, og de er faktisk mitt første par strikket fra tåen og opp, så det blir spennende å se hvordan det blir. Men denne sokkestrikkeiveren min øyner jeg også håp for å strikke opp alt sokkegarnet mitt, foruten Baudelaire, er det bare garn igjen til to par sokker i voksenstørrelse.

I've been a very enthusiastic sock-knitter lately. On summer holiday I only brought one knitting project, a half-finished sock started last year, and the idea was that with only this project to work with, it should at least grow a little bit. But the sock where finished in no time, and I had to cast on for a new pair straight away, so now I'm knitting socks for as long as this sock-enthusiasm last:-) The new pair is Baudelaire, which is my first attempt to knit toe-up, very exciting!