Jeg har lenge hatt planer om å lage et slags lekehus til poden, og da jeg kommer over nattbordet Rast på Ikea i sommer, ble lekehusplanen iverksatt. Sideveggene og toppdelen er nymalte, og innsiden av veggene er tapetsert med rester av kjøkkentapeten jeg er vokst opp med. Planen videre med huset er å lage en bakvegg med et par vinduer, og så lage et tak over overdelen av nattbordet med en skillevegg, så det blir to rom i andre etasje.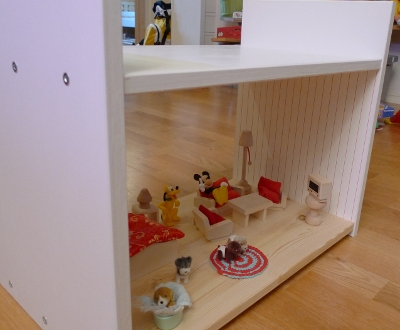 Møblene inni er kjøpt billig fra Hong Kong via Ebay, og foreløpig er det Mikke Mus som bor der i det som nå er en ettromsleilighet. Jeg synes det var greit med møbler som tåler litt herjing, men det kommer nok nytt teppe og ny madrass til senga, og kanskje jeg trekker om salongen også. Ellers vil det vel dukke opp noen nye møbler eller pynteting ettersom jeg kommer over ting eller får noen lure ideer til ting som kan lages.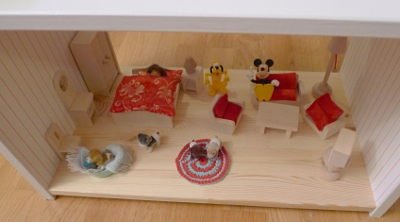 I'm making a playhouse for my son from a very simple and cheap bedside table bought at Ikea. The plan now is to make a wall at the back with windows, and make a roof with a mid wall at the top, so the top floor will have two rooms.