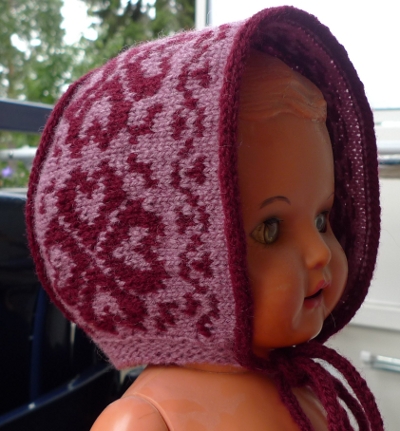 Noen ganger når jeg surfer rundt i blogger eller på ravelry så får jeg en idè jeg bare må teste ut med en eneste gang. Det skjedde da jeg for et par dager siden kom over Seascape bonnet. Jeg så for meg denne lua med selbumønster, og hadde Selbu modern i tankene. Bakstykket er derfor slutten av Selbu modern, strikket motsatt vei, mens de to mønsterbordene på sidestykket er fra Raumas Selbustrikk LVS-5.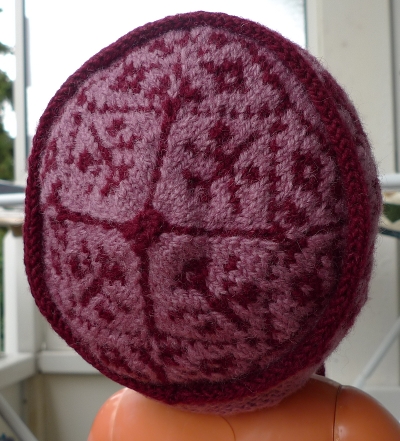 Denne lua var faktisk mitt første møte med icord, både vanlige snorer, icord-bord over sparte masker, og icord-bord ved å plukke opp masker langs en vrangstrikket rad. Jeg har alltid tenkt at det måtte være endeløst kjedelig å strikke tre masker omigjen og omigjen for å lage icord, men det gikk faktisk fort unna, og så blir det jo så fint! Det blir nok lang færre tvinna luesnorer heretter (spesielt siden jeg er helt elendig på å tvinne snorer, og om jeg skal være ærlig er det min bedre halvdel som pleier å tvinne snorer for meg… 🙂 )
Pattern: Seascape bonnet, with charts from Selbu modern and Selbustrikk LVS-5
Yarn: Finullgarn from Rauma
Needles: 2.5 mm

Sometimes, when I come across new patterns on Ravelry or blogs, I get an idea that I have to test out immediately. This happened when I saw Seascape bonnet a couple of days ago. I started to think of the Selbu modern hat, I and wondered how Seascape bonnet would look like with traditional Selbu motifs. So I had to start right away testing it out, and here is the result. The crown is knitted after the last rows of the selbu modern chart, just reversed. The motifs on the brim is from the pamphlet "Selbustrikk LVS-5" from Rauma. I'm very happy with the result, the pattern is great, and the shape of the bonnet seems to be very good.