Vi er hjemme hos mamma og pappa på påskebesøk, og jeg fikk overbevist mamma om å lete i boden etter leker jeg hadde da jeg var liten. Det var mange gledelige gjensyn mens vi titta gjennom esker, og et lite utvalgt får være med oss tilbake til Oslo.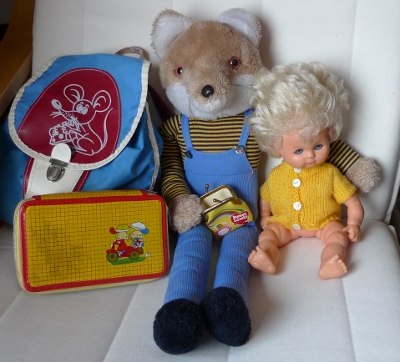 Her er sekken jeg brukte i barnehagen, og pennalet som var nytt til første skoledag. Reven har jeg fått av bestemor og dukka poserer med en genser mamma har strikket.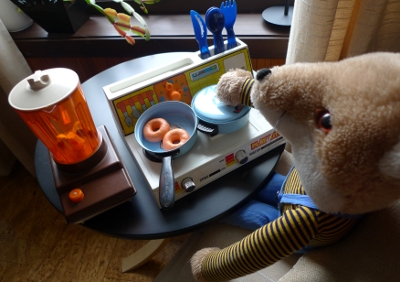 Hr. Rev viser fram litt av kjøkkenutstyret, en kjøkkenbenk med to stekeplater og en vask, og en veldig søttitallsfarga blender. Blenderen har fått seg batterier i dag, og fungerer fortsatt fint, men med de veldig kraftige plastbladene i bunnen er den ikke egnet til mye mer enn å blande vann og saft:-)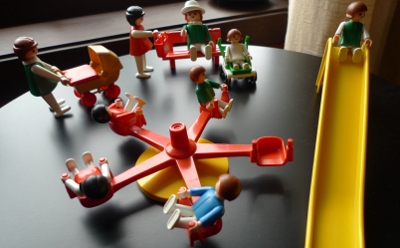 Til sist kan playmolekeplassen min beskues. Jeg husker jeg var veldig misunnelig på kusina mi som hadde et playmobil sykehussett, men det er jo morsomt med lekeplass også. Poden synes ihvertfall det var veldig morsomt å snurre på karusellen 🙂

We are visiting my parents during Easter, and I've looked through some of my old toys. There where so many things I had forgot, but when I saw them again, the old memories came back. Here is a small selection of things I will bring with me back home. The backpack is from when I went to kindergarten, and the pencil case was new on my first school day. The brown and orange blender actually still works, and the playground set from Playmobil seemed to be popular for our boy, it was fun to spin the merry-go-round while all the playmobil kids were trying to stay on it.