Jeg plukka opp dette lure tipset fra Ohelene for noen år siden. Det kom veldig til nytte i dag, da alle de hele strømpebuksene var til vask, og treåringen nekter å gå med strømpebukse med begynnende hull på stortåa. (Sist gang han fikk på seg en sånn strømpebukse ville han ikke gå på foten, men halta bortover med krølla tær.)
Lekebordet i stua kan også brukes som sybord, og poden kom raskt trekkenede med en stol for å følge med på syinga (og testkjøre pedalen når jeg ikke fulgte godt nok med). Og etter et par sømmer var strømpebuksa forvandla til en stillongs.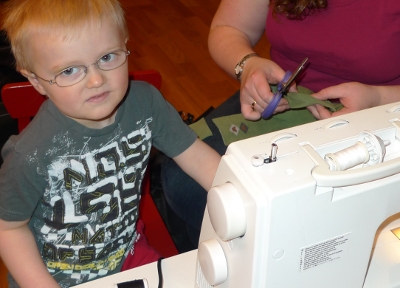 Today I tried out this smart tip from Ohelene on how to transform a pair of tights with foot to a footless pair (the link is in Norwegian, but the photos should be explaining enough, I think).