På tirsdag er det karneval i barnehagen, og som vanlig kommer det litt brått på.. I fjor oppdaget vi det dagen før da vi henta i barnehagen. Jeg jobbet seint og hadde ikke mulighet til å finne på noe, så da ble det en tur innom de lokale butikkene som kunne tenkes å ha et kostyme, og en glinsende polyester-klovnedrakt ble kjøpt inn.
I år har vi fått det med oss litt før, men jeg har ikke hatt inspirasjon eller overskudd til å gjøre noe med det før i dag. Men etter litt googling og ideer fra min bedre halvdel, ble to t-skjorter, litt fyllvatt og en bilsolskjerm gjort om til et biekostyme. Her snakker vi stuntsying uten snev av målebånd og rette sømmer, men jeg synes det ble et morsomt resultat, mye bedre enn den nevnte klovnedrakta ihvertfall 🙂
Framgangsmåten var omtrent som følger:
Jeg bretta inn en god del av lengden på en svart t-skjorte opp på vrangesiden, og sydde rundt, men lot det være igjen en åpning til å ha flyttvatt i. (Rettere sagt, jeg glemte å la det være igjen en åpning, og måtte sprette opp til en passe åpning). Så klipte jeg remser fra en gul trøye, og sydde på den svarte trøya (rett på med sikksakk..). Den nederste gule stripa er på det vatterte området, og når den ble sydd på ble vatten fordelt i tre kanaler, så vatten vil holde seg godt på plass. På ryggen festa jeg et svart bånd (på langs) til å knyte fast solskjermen brettet som et åttetall.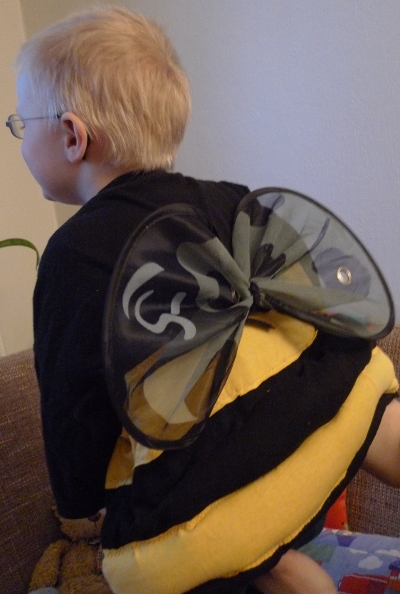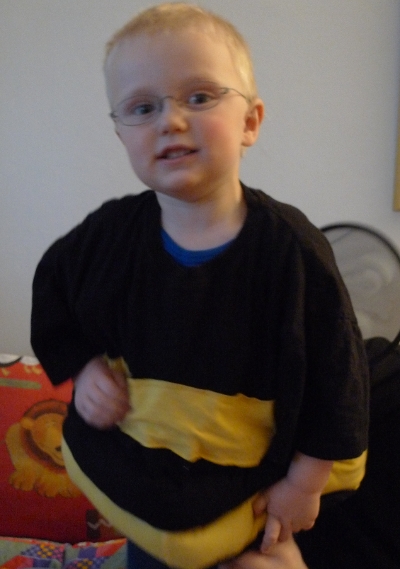 Og som mange andre, har vi kost oss med fastelavnsboller i kveld, nam!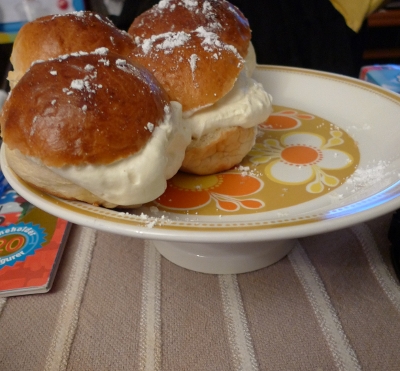 There is a costume party in my sons kindergarten this Tuesday, and today I got the inspiration I needed to quickly put together a costume. I made a bee-outfit from two adult sized t-shirts, fiber fill, and a car window sun shade. I folded the black t-shirt up on the wrong side, and sewed around, but left a opening for fiber fill, filled it, and sewed the opening. Then I sewed on stripes of a yellow t-shirt, and the second stripe is on the filled area, which makes the fill stay in three seperate rooms. The sun shade is folded as an eight and is tied onto the shirt with a ribbon I had sewed onto the shirt. I took me about an hour to make it (with no measuring, wild cutting and fast sewing:-), but I'm happy with the result and I think it is much more fun with a homemade outfit than a fabric made.