Årets siste gave var denne julegaven til søster, som ikke ble ferdig til julaften. Men den ble ferdig i 2009 da, det skal jeg ha:-)
Sokkene er strikket med mønsteret Skeive sokker fra ToneM, og de var veldig morsomme å strikke. Jeg fikk lyst til å eksperimentere mer med sånne skrånende striper, men det får bli i 2010 en gang:-)
Jeg ønsker dere alle en fin nyttårsfeiring og et riktig godt nytt år!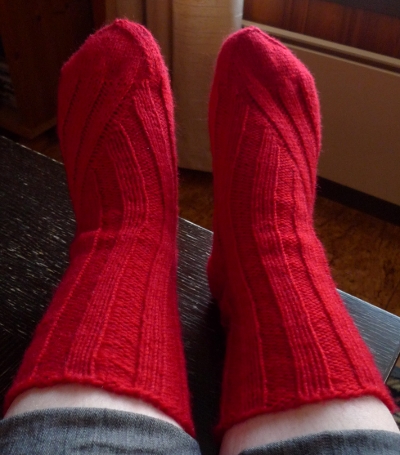 Pattern: Skeive sokker
Yarn: Perfect from Sandnes garn, 2 skeins and some meters
Needles: 3.5 mm

This year's last handmade present is this pair of socks for my sister. They where meant to be a Christmas present, but wasn't finished on time for that. But I did finish them in 2009:-) I wish you all a happy new year!