Ettersom minusgradene allerede har vært på besøk her i byen, fant jeg ut at det var på høy tid å strikke et par nye luer til junior. Man kan lure på om jeg allrede har vært litt seint ute, for lillegutt har blitt febersyk (igjen, er vel tre-fire uker siden sist). Men mye sofasitting gir mer strkketid, så nå skal han ihvertfall være godt utrustet når han blir frisk og klar for barnehage igjen.
Jeg strikka først den grønne lua, og ble så ivrig at jeg fortsatt rett på en blå/grå Tychus-lue. Jeg hadde vel igrunnen tenkt å stoppe der, men prøvekjøring av den første lua viste at den var litt for liten. (Det hadde nok gått greit om ikke mønsterborden hadde vært der, for jeg strikker litt strammere med to farger) . Dermed ble det enda en av samme type, men med et halvt pinnenummer større, og bare striper (og en improvisert bil) istedet for borden, og denne passer ihvertfall. Den grønne får bo i gaveesken enn så lenge… Nå står vottene for tur:-)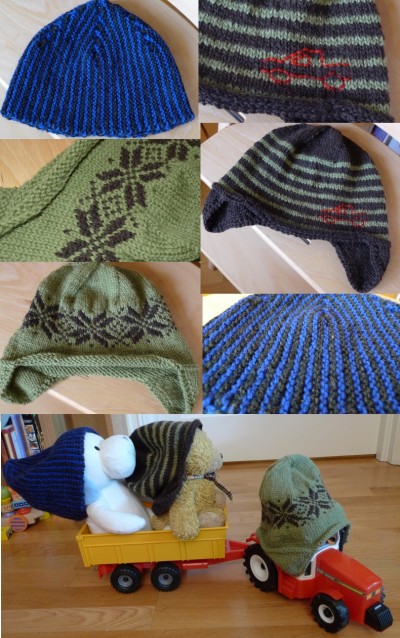 Pattern: The brown and green hats are Norwegian Star Earflap Hats(Ravelry) and the blue and grey is a Tychus.
Yarn: Leftovers of DK yarn, superwash wool
Needles: 3.5 mm for the green hat, and 4.0 mm for the others.

It is getting colder here in Oslo now, we have already had temperatures below 0 degrees Celsius, so I had to make some new hats for my boy. (Well, I might have been to late with the knitting, he has a cold with fever at the moment..)
I made the green hat first, and I started with the Tychus hat right away. But the green turned out to be a bit too small, (I guess it would have been big enough without the star border, I knit a bit firmer with two strands) so I made another with the same pattern but without the border and a half size bigger needles, and this one fits:-) Now, I have to get started on some mittens..