Jeg fikk boka Väldigt virkat i bursdagsgave av svigers. Jeg oppdaga boka tilfeldigvis i en annen blogg, og skjønte jeg måtte ha den etter å ha lest enda mer om den på Capris. Det er en tykk bok med veldig mange oppskrifter på alt mulig fra grytekluter og leker til penkjole og heklet undertøy(!), i retrostil. Det er veldig mye kult i boka, og spesielt mye fint til jenter, men for meg blir det nok mer en bok å hente inspirasjon og idéer fra, enn at jeg følger oppskriftene derfra helt slavisk. Men en vest (som, så vidt jeg kan se, er det eneste plagget til gutter) måtte jeg prøve meg på. Jeg har hekla stort sett etter boka, men i stedet for å hekle rygg og forstykke hver for seg, så har jeg hekla rundt, og snudd for hver runde for å få det samme utseendet på halvstavene. Jeg har også hekla noen omganger lenger etter delinga til ermehullene for å få de litt større. Jeg ble fornøyd med resultatet, og det ser ut som om poden er enig. Det eneste jeg lurer på er om jeg skulle ha pynta den opp litt med en bil eller noe.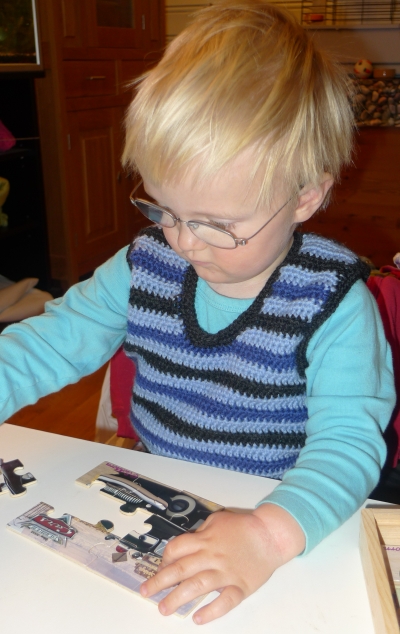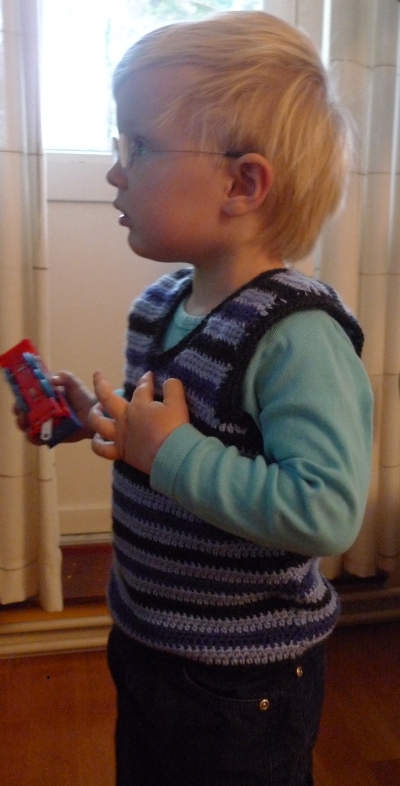 Pattern: 37 slipover from the book Väldigt virkat (only in Swedish), size 4 yrs
Yarn: Mor Aase superwash (100 m/50 gr)
Hook: 4.0 mm

I got the Swedish book Väldigt virkat for my birthday, and I had to try out the pattern for a boy's vest. I made some small changes to the pattern, I've crocheted the vest in rounds instead of making the front and back as two pieces, but I turned for each row in order to make it look the same as the original. I'm happy with the result, but I thinking of adding some decoration on it, a crocheted car maybe?