Og som dere ser så er jeg godt forberedt!:-) De som kjenner meg vet at jeg egentlig ikke er så veldig gira på å pynte med nisser, men jeg gjør et unntak for disse gryteklutene. Når vi ryddet ut etter at bestemor døde, ble en halvveis påbegynt nisse, med en håndavskrevet oppskrift og garnrester med meg hjem, og nå er de blitt til et komplett sett. Og nisser med gode minner får lov til å komme til å komme fram til jul!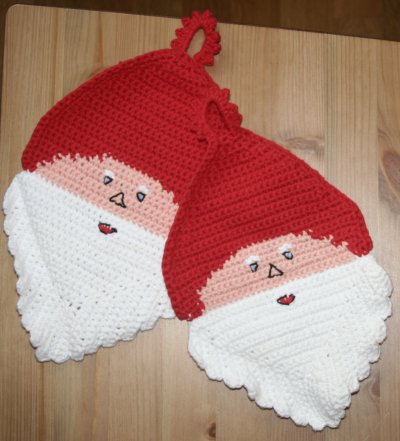 Today it is four months left to Christmas Eve, and as you can see, I'm prepared

I got a half made potholder with yarn and a hand written version of a pattern, after my grandmother, and now I've finished the pair. It will be nice to use these during the Christmas holiday.