Det er alltid for mange prosjekter i omløp hos meg, så da passer det bra at det av og til dukker opp en UFO-along med mulighet for å kvitte seg med noen av prosjektene. Denne gangen er det UFO-slanking på HB fra 1.juli til 30. november, og jeg er påmeldt med følgende prosjekter:
* Ingaveska (Påbegynt august 2008)
* babyvest/tunika fra Myk Start (Påbegynt april 2009)
* et par selbuvotter (Påbegynt januar 2006, er på vott nr 3 nå..)
* ole brumm navnebroderi (Skulle vært ferdig til podens dåp september 2007)
* Ene's scarf (Påbegynt november 2008)
* hakket lappeteppe (Påbegynt januar 2006)
* heklet ole brumm (Påbegynt mai 2006)
Både hakketeppet og Ingaveska er framme i sofakroken, og bildet viser veska når 4 av 16 lapper er heklet sammen, det ser ikke mye ut som veske enda.. Etter tips fra ravelry har jeg har tenkt å hekle sammen rutene underveis, "radvis", og ikke gjøre som tegninga i oppskriften antyder. Med denne måten slipper jeg unna en god del trådfesting, og det er selvsagt mer motiverende når man ser veska vokse, og ikke bare lager en bunke lapper.
Lappene er heklet sammen rette mot rette, med kjedemasker gjennom fremste løkke på første lappen og bakerste løkka på den andre lappen (forklart hos Attic24), og jeg synes det fungerte veldig bra.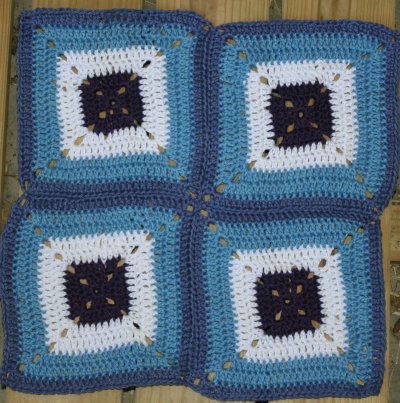 I've joined a "finish your ufoes"-KAL, and I've found some quite old things I want to finish. The KAL lasts from July 1st to November 30th, and here is my list of projects:
* Inga's Haekelbeutel (Started August 2008)
* baby vest from "Myk Start" (Started April 2009)
* A pair of Selbu mittens (Started Januar y2006, I'm working on mitten no 3 now..)
* Embroidery with my sons name in Winnie the Pooh-letters (Started September 2007)
* Ene's scarf (Started November 2008)
* Tunisian crocheted afghan (Started January 2006)
* Crocheted Winnie the Pooh (Started May 2006)
The photo shows the beginning of Inga's Haekelbeutel. After checking with other's experiences on Ravelry, I found out that it is smarter to joint the squares when finishing four, instead of do it as the figure in the pattern suggests. This way I save myself many loose ends to weave in, and it is also more motivating to see the bag grow. I join the squares by using a method I found at Attic24, and I'm very happy with that method.