For to år siden laget jeg en Hello Kitty-pung til min eldste lillesøster, og samtidig lovte jeg å hekle en sånn til yngste lillesøster. (De er ikke såå små altså, disse lillesøstrene, 19 og 21 år for å være presis, men Hello Kitty er stadig "in"). Endelig fikk jeg somla meg til å lage en til. Rart at ting som egentlig kan lages ferdig på en kveld utsettes så lenge… Pungen er hekla i rester av Paris (hva det er rester av kommer det snart bilde av her), og det er glidelås i toppen.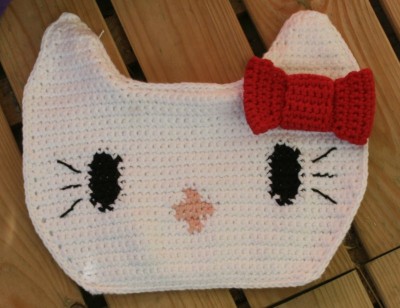 Pattern: My own
Yarn: Paris from Garnstudio
Hook: 4.0 mm

Two years ago I made a Hello Kitty purse for one of my sisters, and at the same time I promised to make one for my other sister. Well, she had to wait two years, even though the purse can be made in one evening. It is made with leftovers of thick cotton yarn, and it has a zipper in the opening.