..ligger tett i leiligheten i dag. Jeg har endelig fått somla meg til å sy lavendelposer til eskene med barneklær på loftet, i håp om at de ikke skal ha loftslukt eller bli møllspiste innen de brukes igjen.
Posene er sydd i lin (det eneste linstoffet jeg har er i denne lysegrønne fargen, som antakelig var mest in det året kjøkkenet vårt ble malt, for det har omtrent samme farge), og pyntet med diverse blonderester. Det er forresten ganske mye jobb å sy en slik pose, med måling, klipping, stryking og tilsammen sju sømmer, men nå har jeg forhåpentligvis så det rekker en stund:-)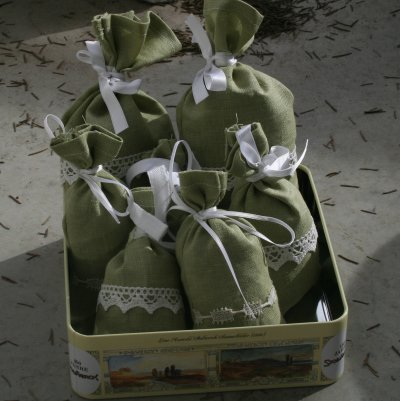 I've made small lavender bags to keep with the clothes that are stored in the attic, hopefully the clothes will avoid the "smell of attic" and the moths. The bags were quite boring to sew, a lot of work for such a small item, but this batch should last for a while.