Jeg har denne høsten delt kontor på jobb med ei fra Tyrkia. Nå skal hun reise hjem, og Selbuvotter var selvfølgelig det første jeg tenkte på å gi henne, som et lite minne fra Norge. Om jeg hadde tenkt på denne gaven tidligere ville jeg ha strikket i tynt garn, for jeg liker det best, men for å bli ferdig i tide ble jeg nødt til å velge det kjappeste alternativet. Som alltid når jeg strikker selbuvotter, blir de i minste laget for meg, men jeg tror (etter å ha prøvd så diskret som mulig å sammenligne hennes hender med mine) at de skal passe til mottakeren.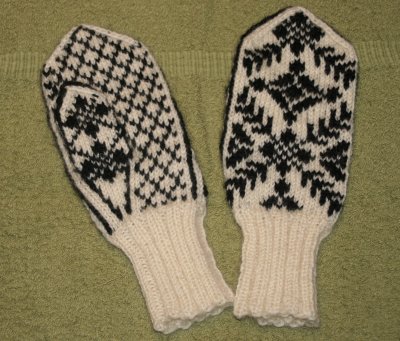 Pattern: from an old magazine
Yarn: Mor Aase ren norsk ull
Needles: 3.5 mm
Adventskalenderen går sin gang, i dag var aktiviteten å lime silkepapirbiter på en pappstjerne. Lillegutt synes det er mest morsomt å lime med limstiften, å sette på silkepapirbiter er derimot nokså kjedelig:-) Ellers har helga blant annet bestått av lusekattbaking, og pynting av juletre. (Vi starter tidlig siden vi skal være borte det meste av jula).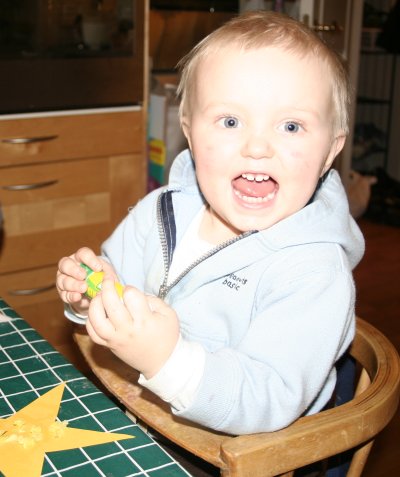 I've knitted a pair of Selbu mittens for a work colleague from Turkey. She is now going back to Turkey, so I wanted to give her something to remind her of Norway:-) I would have chosen thinner yarn and needles if I had time for that, but since I got this idea in the last minute I had to choose a faster solution.
Today's task in the activity advent calendar was to glue small balls of paper onto a star. My little boy likes to use the glue stick, but finds it rather boring to put on the paper balls:-) It is fun to see what he likes to do and what he isn't interested in doing at all.