Jeg lovte søsteren min et par slike votter en gang for veldig lenge siden, men jeg har selvfølgelig aldri fått somla meg til å begynne. Heldigvis hadde jeg meldt vottene på den kreativ stafetten som foregår på Hobbyforum. Tidlig i desember ble jeg utfordret til å lage dem, og nå er jeg endelig ferdig:-) Så her er vottene dine kjære søster!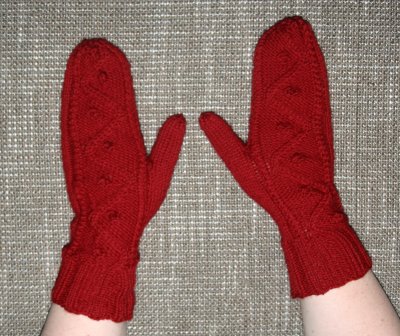 Pattern: Hermione's cable-and-bobble mittens
Needles: 4.0 mm
Yarn: Sportsgarn from Trysil Garn

We have a challenge KAL at the Norwegian forum Hobbyforum, and I was challenged to make these mittens. (I promised to make a pair for my sister some time ago, and since I never got around to start on them, I registered them for the KAL).This is my fourth pair, and they are fast and easy to knit, but I make them a bit longer than the original. The finished mittens looks very slim and long, but they are nice on the hands.