Etter å ha vært på strikkekafé og sett kunsten å strikke begge sokkene samtidig, endte det fort opp med (atter) en bestilling fra Capris. Denne gangen ble det boka 2-At-A-Time Socks: The Secret of Knitting Two at Once on One Circular Needle. (EZ's Knitter's almanac er jo så billig at den ble med neste helt av seg selv).
Det kan vel sies at man kan klare å få til å strikke med "magic loop" ved å bruke de små grå i stedet for en bok. Men det er veldig mange fine oppskrifter der også, så det er verdt boka i seg selv synes jeg.
Jeg har ikke prøvd meg på sokker enda, men det passa ypperlig med en magic loop for å strikke ermene til Nøstebarnjakka "Jakke med flettemønster og dobbel perlestrikk". Jeg hadde visst glemt hvor ufattelig kjedelig det er å strikke (dobbel) perlestrikk, så uten "magic loop" kunne jakka lett ha endt dypt inni ufo-avdelingen. Nå er det derimot godt håp om at jakka blir ferdig tidsnok til at lillegutt fortsatt passer inn i den. Time will show..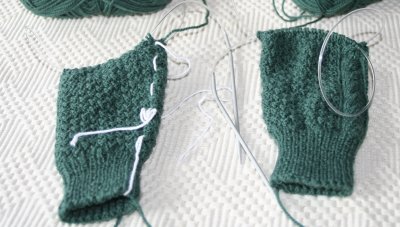 After watching other knitters at S'nB knit both socks at the same time on a long circular needle, I had to get the book 2-At-A-Time Socks: The Secret of Knitting Two at Once on One Circular Needle. Well, it should be possible to figure out the magic without using any book, but the many great patterns there are alone worth buying the book. I haven't tried socks yet, but it is also perfect for knitting small sleeves. I have obviously forgotten how boring it is to knit (double) seed stitch, and this jacket for my little boy might have ended up with my other ufos. But with the magic loop I have the hope that it actually might be finished, and even before my boy grows to big for it. Time will show..