Det strikkes intenst på sweetheart for tida, kjolen må nemlig være ferdig til onsdag, og jeg skulle gjerne hatt tid til å lage en matchende lue også. Kjolen er morsom å strikke, garnet er nydelig, og hjertene er søte (men det er det ikke så lett å se på bildet, dette var det beste jeg fikk til i kveld med innelys, jeg lover bedre bilder når kjolen er ferdig:-).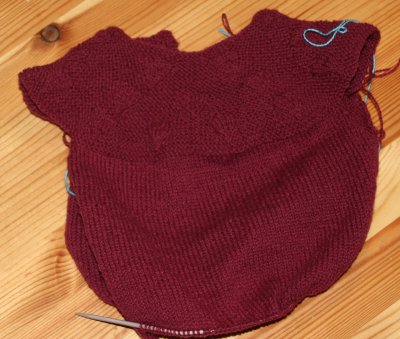 Det eneste jeg ikke liker helt er at kjolen ikke blir helt symmetrisk. Det skyldes måten knappestolpen skal lages, ved å la det ene forstykket ha flere masker enn det andre, lage bare en stolpe, den knapphullene er på, og sy knappene fast på den siden der de ekstra maskene er. Så hvis jeg strikker kjolen igjen skal jeg fordele maskene på bærestykket slik at forstykkene får like mange masker hver, i stedet legge opp noen masker ekstra på midten når man begynner å strikke rundt, og så strikke to stolper til slutt. Det irriterer meg litt at jeg ikke tenkte på det problemet før jeg begynte, hodet mitt liker best at (blant annet) klesplagg er speilsymmetriske om midten.

I'm knitting as fast as I can on the dress sweetheart.It has to be finished before Wednesday (when it is supposed to be given away), and I also would like to make a matching hat, but we'll have to see about that. The dress is fun to knit, the yarn is great, and the hearts are sweet (not easy to see on this indoor picture from this evening, I promise better photos when the dress is finished). The only thing I don't like is that the dress doesn't turn out to be symmetric in the front pieces. That has to do with the pattern's solution to make the button band. If I would knit the dress again I would divide the stiches on the yoke such that the front parts has the same number of stitches (shouldn't that be obvious?), add some new stitches between the front pieces when joining for knitting in the round, and then knit two button bands, not only one with the button wholes. But this is just me, I like symmetry.