Bloggen min er visst litt kjedelig for tida. Det er fortsatt sånn at jeg har ørtibørti projekter på pinnene samtidig, og det resulterer i at ingen ting blir ferdig:-) Og denne sykdommen kan nok vare en stund, hvis man ser på lista jeg skrev opp i dag med alt jeg skal strikke.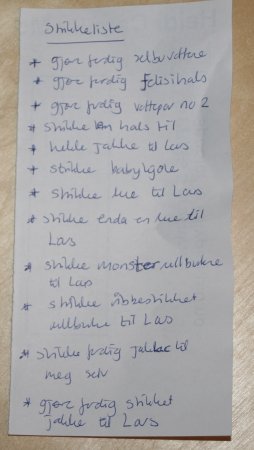 Det er mye barnehageklær på lista, og jeg har erfaring med at det må være dobbelt av alt i tilfelle noe blir borte. (Og i barnehagen blir store ulltepper borte daglig, så jeg tør ikke tenke på hvordan det skal gå med votter og luer:-)
Første par ut i barnehagen er disse vottene som matcher retrojakka fra tidligere i høst. Og med navnelapper i sidene forsvinner de kanskje ikke så fort. Oppskriften er "basic mitten" fra Folk mittens
Symaskina har også vært ute og lufta seg denne uka, og også der er det barnehageutstyr på gang. Forhåpentligvis blir det klart for framvisning her snart:-)
Ha en riktig god helg alle sammen!

It is still quite quiet here. I still have a dozen of projects on my needles, so anything never gets finished:-) And after writing up all the things I have to make soon, I fear that this phase will last for some time:-) Many of the things on the list are clothes that my little boy needs for the winter, like hats, mittens, neck warmers, and pants. And I have discovered that he will need twice of everything for the kindergarten. They are capable of (temporarily) loosing big blankets there, so I guess small clothes also will disappear.
But I have actually managed to finish a pair of mittens! They match the retro jacket I made earlier this autumn, and the pattern is the "basic mitten" from Folk mittens
The sewing machine has also been out from the closet this week, so hopefully you will see the result of that here sometime soon:-) Have a great weekend!