Ingen ting er som å få pakke i posten! Jeg er vel av de siste her i bloggverdenen som har oppdaga den supre nettbutikken 123knit.com. Prisene er gode, og leveringa var superrask. Jeg bestilte seint søndag kveld, og onsdag lå pakka i postkassa. (For en gangs skyld hadde faktisk postmannen orket å ta med seg pakka i stedet for legge igjen en hentelapp). Så nå har jeg fire hesper New Zealand lammeullgarn liggende, til å se og klappe på:-)
Den mørkerosa hespa skal forvandles til en liten kjole, antakelig denne. De andre hespene blir nok klær til lillegutt, blant annet en idé jeg har, som jeg skal se om jeg får til å funke med garn og heklenål.
Ha en fin helg!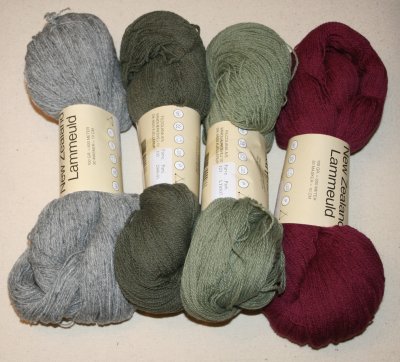 Yarn in the mail! I discovered the great shop 123knit.com, which have nice yarn with nice prices, and the shipping was very fast too, I placed my order late Sunday evening, and on Wednesday I had the yarn in my mailbox. It is four skeins of New Zealand Lammeuld, it is so soft, and the colors are great. The dark pink yarn will become a little baby dress, probably this one. The other skeins will become more clothes for my little boy, I have an idea for a jacket, which I'm eager to try out.
Have a nice and relaxing weekend!