Det strikkes og hekles, men ingenting blir ferdig… Det har nok en viss sammenheng med hvor mange prosjekter jeg har samtidig, for her er bare sofautvalget av prosjekter. Projektene i sofaen har forresten en tendens til å overta stadig større territorium.
Når strikkehjørnet mitt er nyrydda ligger prosjektene på armlenet, og jeg kan sitte på plassen ved armlenet. Men ganske snart eier prosjektene hele det første setet, og jeg sitter på neste sete. Når jeg er i ferd med å skli over til det tredje setet begynner min bedre halvdel å mumle noe om at det begynner å bli trangt i sofaen. Da er det på tide å ta en opprydning, før det hele gjentar seg. Nå sitter jeg på det andre setet fra armlenet, dermed er det fortsatt litt tid igjen før jeg må rydde, så da kan jeg jo strikke litt i stedet 🙂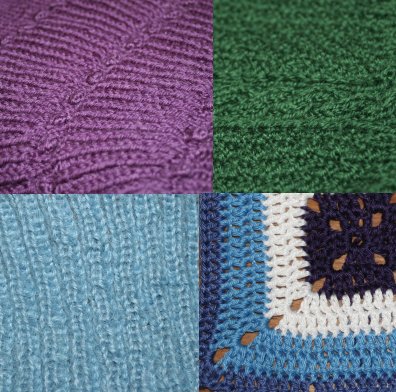 Nothing ever get finished these days, instead I frequently start new projects. Here is the sofa-collection of projects, I want even mention the unfinished projects in our bedroom. But sooner or later something will be finished, it's just a matter of time!