Da var mitt bidrag til retroalongen på Hobbyboden ferdig. Jakka er i størrelse 3-4 år, og selv om vi må vente litt før den passer til lillegutt er jeg godt fornøyd med resultatet. Faktisk så fornøyd at jeg gjerne skulle ha strikka matchende lue og bukse, men med mine strikkeplaner, som for tiden har vokst langt over hodet på meg, så er jeg redd det blir med tanken.
I følge oppskriften skulle man strikke forstykker og rygg for seg, og sy ermene på til slutt. Men lat som jeg er har jeg strikket alt i ett, og strikket ermene inn med raglansfellingen. Stolpene skulle strikkes samtig med forstykkene i følge oppskrifta, og det fulgte i tillegg med et lurt tips om ca hver 5 cm snu før man strikker stolpen, og så strikke den med igjen neste runde. Da får stolpene noen færre omganger enn forstykkene og de vil forhåpenligvis holde seg stramme, og ikke sige slik de ellers kan gjøre. Jeg strikket stolpene som beskrevet, men siden jeg strikket alt i ett, så måtte det litt regning til for å få knappehullene jevnt fordelt, heldigvis funka regnestykket mitt nogenlunde.
Lillegutt ser også ut til å være fornøyd: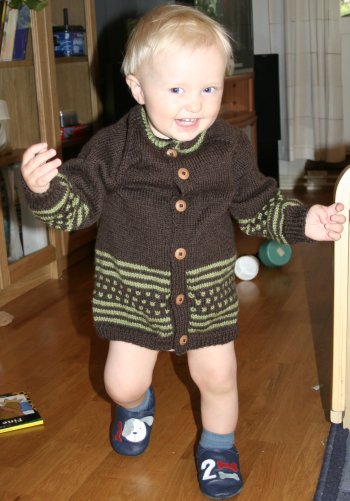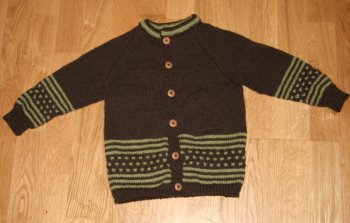 I have finished my contribution for the retro knitalong at the Norwegian forum Hobbyboden. The pattern is from the 70's I guess, and the knitalong got started when a lady at the forum came across a bunch of patterns with no photo or illustration of the finished result. We got a pattern each, so we can find out what one can make from the patterns.
The jacket is size 3-4 yrs, so my little boy has to get a bit older before the it fits. But I'm happy with the finished result, and it was fun to knit too. I actually liked it so much that I got an idea for matching hat and pants, but I have to many projects on my needles and in my mind already, so I guess I want have time for this idea.
According to the pattern one was supposed to knit front and back pieces separately, and then sew the sleeves on. But since I'm a lazy person (at least when it comes to sew knitted pieces together), I knitted the front and the back in one piece, and knitted the sleeves on with the raglan decreases. I even knitted the button bands directly. (That was actually according to the pattern, with the tip that one should knit without the button band sts for two rows every 5 cm. Then the button bands get fewer rows than rest of the jacket, and hence they should avoid getting looser during use.). I had to do some calculation to get the button holes evenly distributed, but I would of course do anything to avoid sewing.