Det har vært ferie både på bloggen og i real life. Men jeg har da fått strikka litt, blant annet er retrojakka fra forrige post snart ferdig. I mens kan dere jo få se at det ikke bare er meg som har hobbyer her i huset, og at det er fullt mulig å være birøkter selv om man bor i en leilighet i Oslo 🙂 Se her for å komme til mannens blogg om bier, så kan dere finne hva lillegutt står og lener seg mot.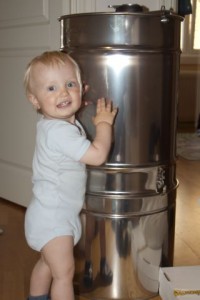 Jeg oppdaga tilfeldigvis i dag at en del kommentarer urettmessig har havnet i spamfolderen. Jeg er ikke vant til at kommentarer jeg setter pris på havner der, så jeg har ikke sjekket der på lenge. Men nå har alle kommentarene jeg vil ha kommet ut på bloggen. Jeg skal heretter sjekke spamfolderen mer jevnlig, så kommentarene skal slippes fort igjennom. Jeg setter utrolig stor pris på de hyggelige kommentarene jeg får, så jeg synes det var leit at noen av dere kanskje har lurt på hvor kommentarene deres hadde blitt av, heretter skal det blir mer orden i sakene!
Nyt den siste resten av sommeren, her er det jobb- og barnehagestart neste uke.

It's been summer holiday both in my blog and in real life. But I have done some knitting, so hopefully there will soon be posts about finished projects. In the meantime you can visit my husband's blog on beekeeping. (It is in Norwegian only, but it has many photos). I'm not the only one having hobbies, and filling our apartment with hobby stuff:-)
I discovered today that quite a few of the comments some of you have written on earlier postings accidentally have ended up in the spam folder, I 'm not used to find non-spam comments there (and I have no idea on how these nice comments got there), but from now on I will check the spam folder frequently. I apologize to those of you who might have been waiting for your comment to be approved. I really appreciate all the nice comments I get, so I got a bit upset when I discovered what had happened. But now I'am aware of it.
Enjoy your last(?) days of summer holiday! Here it is back to work next week, and our little boy will start in kindergarten.