Hva gjør man når man har sofaen full av prosjekter, og strikker som en gal for å få ferdig nok varmt tøy til lillegutt før høsten setter inn for fullt? Jo, man strikker et epletrekk! 🙂 Jeg kom over mønsteret på Ravelry, og kunne ikke la være… Fantastisk morsom idé, og det var akkurat et slikt prosjekt jeg trengte nå; morsomt, og ferdig på under en time. Nå blir det gøy å ta med eple på jobb. (Dessuten slipper eplet å rulle seg inn i rusket nederst i veska, og behøve omvask når det skal spises).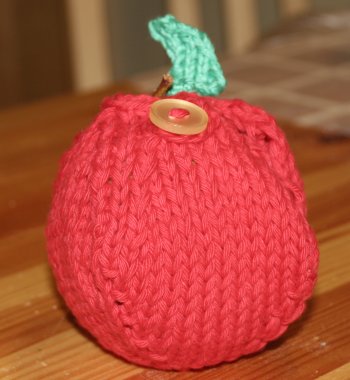 Pattern: Apple cozy
Yarn: Paris from Garnstudio
Needles: 5.0 mm

What do I do when I already have filled the sofa with unfinished projects? I decide to knit an apple cozy! 🙂 I came across this pattern on Ravelry, and I couldn't resist it. It was just the sort of project I needed now (to get a break from all my big projects like jackets), it was fun to knit, and it took me less than an hour to finish. It will be fun to bring an apple to work now, and the apple will stay clean when it is in the bottom of my purse.