Endelig har jeg fått ferdig denne ullbuksa som jeg startet på i fjor høst/vinter. Jeg innså nokså tidlig at lillegutt måtte bli en del større før den kom til å passe, så i fjor ble den bare liggende. Buksa er nok fortsatt stor, men nå har jeg ihvertfall fått den ferdig. Det gikk i grunnen fort unna når jeg først satte i gang å strikke på den (rart med det, strikketøy vokser tydeligvis ikke når de ligger i poser). Dessuten kan jeg stryke ut enda en ting fra lista på badet. Nå gjenstår bare Juliet, men jeg er redd hun bare blir liggende. Det er noe jeg ikke er helt fornøyd med der, så til jeg finner ut av hva det er og hva jeg kan gjøre med det får hun hvile.


Pattern: Improvised, stripe pattern made here
Yarn: Babyull from Trysil garn
Needles: 2.5 mm and 3.0 mm
Jeg falt også for fristelsen til å melde meg på retroalongen på Hobbyboden. Therese kom over en haug med gamle mønster uten bilde, så vi har fått utdelt hvert vårt mønster og så er det vi som lager bildene som mangler:-) Jeg strikker på en jakke. Jeg er ferdig med bolen, og har igjen ermene og raglansfellinga. Her er en liten smugtitt..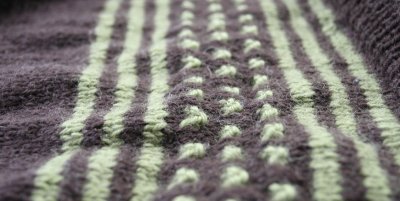 I finally finished the pants for my little boy. I started to knit them last year, but I realized that they would be way too large anyway, so I lost the interest for them. But he will start in kindergarten soon, so now I had a reason for finishing them, even though they still might be too large. These pants also count for one of the projects on my list!
The brown thing with light green stripes and dots is a sneak peek of the jacket I'm knitting in the retro knitalong started at Hobbyboden. A lady there came across a bunch of old patterns with only pattern text and no photos/pictures of the items. So the participants in this knitalong have gotten a pattern each, to see what one can make from the patterns.