Omsider ble jeg ferdig med bølgeteppet til lillegutt, og jeg kan stryke ut enda et prosjekt fra lappen på badet. Både lillegutt og jeg er fornøyd med resultatet, men jeg synes det var nokså kjedelig å hekle teppet. Må si jeg er imponert over de som orker å hekle bølgeteppe i "voksenstørrelse", dette er jo tross alt et nokså lite teppe, på ca 1×1 m, og enda gikk jeg superlei.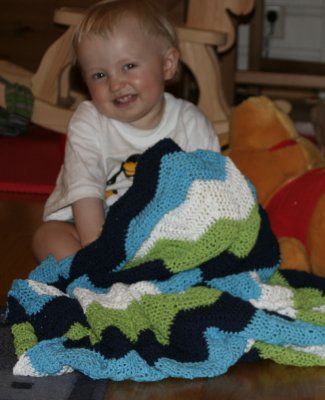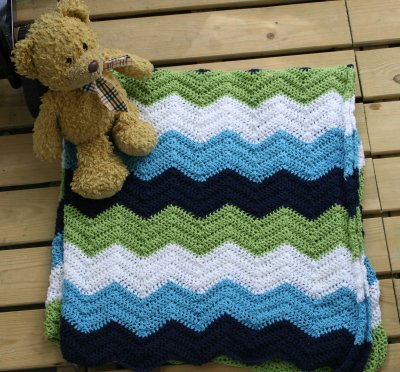 Pattern: Easy Ripple Afghan
Yarn: Mor Aase Bomull (cotton)
Hook:4 mm
Jeg må også vise fram den flotte premien jeg har vunnet. AnnetteK satte i gang en ordlek på Hobbyforum, med premier til de som skrev ett av ordene hun hadde fastsatt på forhånd. Jeg var så heldig å skrive ett av disse ordene, og jeg må si jeg ble superoverraska da dette dukket opp i posten. En nydelig klut som jeg gleder meg til å ta i bruk, og et nøste Indiecita alpaca fleece i en flott blåfarge. Garnet blir vel kanskje en hals eller noe annet varmende til lillegutt, eller kanskje et par pulsvarmere til meg selv. Tusen takk, AnnetteK!!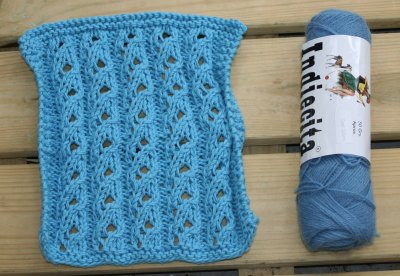 I finally finished the blanket for my little boy, and we are both pleased with the result. But I got really bored making it, which makes me really impressed by people who actually make large blankets with this pattern, this blanket is only 1×1 meter. Now I have only two projects left on my bathroom note 🙂
The last photo shows what I won in a word game at the Norwegian forum Hobbyforum, donated by AnnetteK. I got a beautiful cloth (it is almost to beautiful to use), and one skein of Indiectia alpaca fleece. I guess I will make something warm for my little boy, or perhaps a pair of wrist warmers for myself. Thank you, AnnetteK!