Jeg har lenge hatt planer om å sy strikketøymapper, og tiltenkt stoff har ligget klart omtrent like lenge. Men etter å ha vært på et par strikkekafeer og sett alle de stilige strikketøymappene som fins der (Mange av dem er sydd av Felisi), fikk jeg endelig fart i sakene. Så nå er kjedelige plastposer byttet ut med miljøvennlige og reklamefrie mapper.
Jeg grubla litt på hva slags fasong jeg skulle velge, og endte opp med denne typen. (Selv om jeg skal innrømme at de kan se litt toalettmappeaktige ut, men det er altså strikketøy inni:-)
Den fremste, lille mappa er derimot ikke til strikketøy. Jeg oppdaget at det kunne være praktisk med en liten mappe der jeg kan ha nøkler, mobil, og lommebok, når jeg f.eks skal ut på lekeplassen med lillegutt eller andre steder der det er upraktisk med en skulderveske. Hempa i siden på den er lang nok til at den går rundt mappa, så jeg kan feste mappa til buksa eller vogna.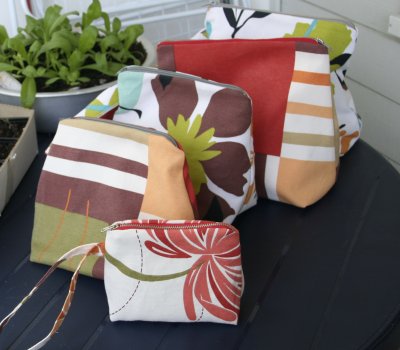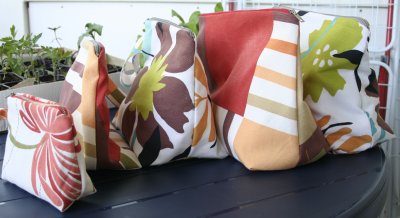 I have been planning to make bags for my craft projects for a long time now, and this past weekend I finally got around to make four of them. The pattern is very simple (I think I've seen a tutorial on how to make them somewhere, but I don't remember where), and there is no tedious hand seam finishing. The big job (at least for me) is to transfer the pattern and cut out the pieces with seam allowance, the actual sewing is a piece of cake.
The smallest bag is big enough for keeping my keys, wallet, and mobile phone, and I discovered the need for such a bag when I'm at the playground with my little boy or other places where it is incovnenient to drag around with a shoulder bag. I can carry this little bag around the arm wrist, or it can be attached to a belt strap on my pants.