For en tid tilbake begynte jeg å strikke Kerttu sukat til meg selv, siden jeg hadde to nøster med 6-tråds Opal liggende, og for en gangs skyld hadde funnet en litt spennende sokkeoppskrift til så tykt garn. Mønsteret hadde selvsagt kommet tydeligere fram om jeg hadde strikket i ensfarget garn, men det er jo uansett mer morsomt å strikke mønster, uavhengig om det synes eller ikke:-)
Jeg måtte bruke av begge nøstene for å få sokkene like, og siden jeg hadde "sprettet" begge nøstene så var det like greit å bruke opp garnet. Dermed ble det også to par barnesokker, i str 1-2 år og str 3-5 år. (Oppskrift fra Nøstebarnboka) Regner med at sokkene kommer til nytte etterhvert som lillegutt vokser. (Selv om søsterne mine kommer til å hyle over at han har fått jentesokker.)
Enda ble det en liten garnrest igjen, som er i ferd med å brukes opp nå, den som følger med får se hva det blir…
Ellers har garnlageret mitt økt litt den siste uka, med 57 nøster for å være presis. Men jeg har planer for nesten alt garnet, jeg har tenkt å strikke February Lady Sweater, Vine Lace Top Down Cardigan, og Jakke 196-01 fra Dalegarn. Jada, jeg burde slutte å jobbe og heller blir heldagsstrikker om jeg skal få gjennomført alle planene mine..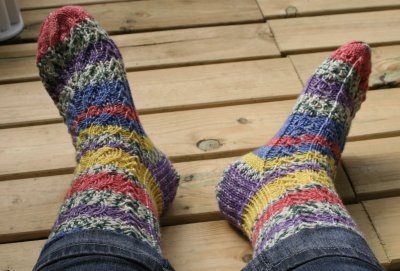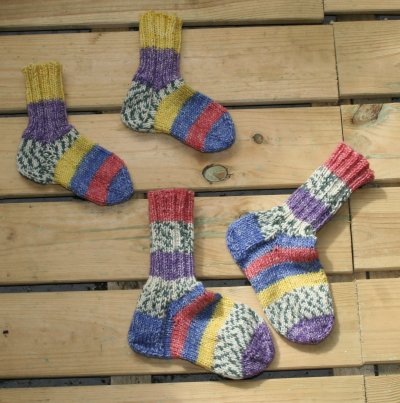 Some time ago I started to knit Kerttu sukat using Opal 6-fäch. It was fun to knit these socks, and I'm happy to have found a nice sock pattern for thicker sock yarn. But in order to get them similar with the Opal yarn, I had to use two skeins. When I first had started on these skeins, I wanted knit up all of the yarn, so I have also knitted two pair of plain rib socks in sizes 1-2 yrs, and 3-5 yrs. (Pattern from the Norwegian book "Strikk til Nøstebarn"). And there is still a small amount of yarn left, which I'm knitting with at the moment. (I guess you will see the result here soon:-)
The last week I have also bought some more yarn. And with some yarn I mean 57 skeins…. But I have plans for most of it. I want to knit February Lady Sweater, Vine Lace Top Down Cardigan, and Jacket 196-01 from Dalegarn. I think I'll have to quit my job and become a full-time knitter:-)