Da er Ribbed Lace Bolero ferdig, og jeg ble godt fornøyd. Egentlig kunne den ha vært kortere både i bredden og vidden, om den skulle ha blitt så tettsittende som den som vises i oppskrifta. Oppskrifta er basert på at man regner ut fra egen strikkefasthet med det garnet man velger å bruke, og bruker egne mål på skulderspenn og omkrets rundt overarmen. Jeg har både sjekka strikkefastheten og fått mannen til å måle, så det er i grunnen rart at den ble så løs som den ble. Men sånn i ettertid er jeg allikevel fornøyd, den er luftig samtidig som den varmer godt, og i motsetning til sjal og skjerf sklir den ikke ned. Dessuten liker jeg ikke plagg som sitter for stramt under armene, så bedre litt løs enn for stram.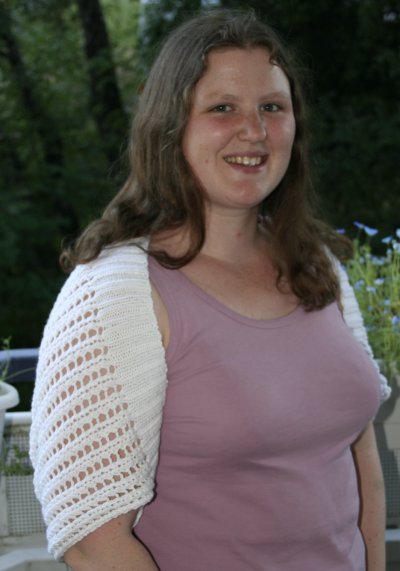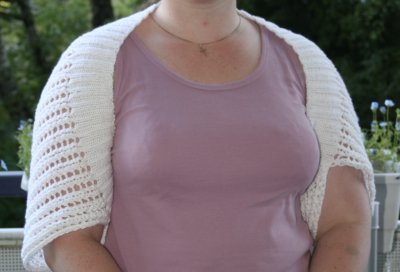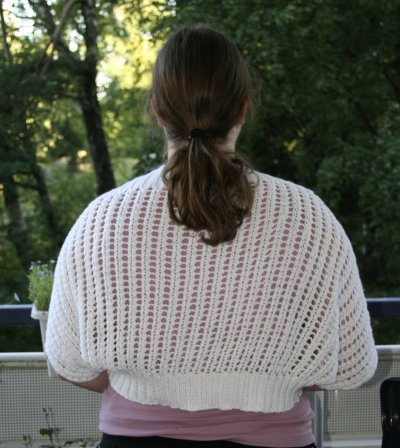 (Det er mannen som er utskremt fotograf. Vi måtte ta bilder to ganger, for på de første bildene ser jeg helt fjern ut i ansiktet (derav manglede hode på det ene:-), og på bildene der ansiktet er godkjent er boleroen mindre synlig.. Prøvde å lære mannen forskjell på når jeg synes bilde av meg selv er fint og ikke, men jeg tror ikke det sank inn. "Jeg synes du ser ut som det selv på alle bildene jeg" var svaret.)

I have finished my Ribbed Lace Bolero. It turned out a bit larger than expected, even though I had checked the gauge, and measured my shoulder-span and circumference of my upper arm. But I'm happy with the result anyway. The bolero is both airy and warm, and since I really don't like clothes that are to tight under the arms it is better that it turned out bigger than expected rather than smaller.