Jeg oppdaget nylig at lillegutt kunne trenge et nytt og mer sommerlig teppe til vogna, og til formiddagsluren. Derfor satte jeg i gang med å hekle et bølgeteppe i bomullsgarn. Jeg er ikke mer kreativ med stripene enn at jeg hekler seks rader av hver farge i rekkefølge. Planen er fire striper av hver farge, for da er teppet ca 1 x 1 meter. På t-baneturen på vei til jobb rekker jeg å hekle ca 2 rader, så med litt regning tar det 48 dager å få ferdig teppet kun med t-banehekling. Jeg blir visst pent nødt til å hekle litt utenom om lillegutt skal få tatt i bruk teppet før sommeren en over 🙂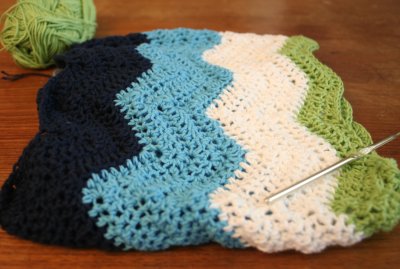 Tidligere i uka dukka denne kjempesøte nålputa opp i postkassa. Jeg var så heldig å vinne den etter at jeg la igjen en kommentar i bloggen De små tingene i livet på ettårsjubileet for bloggen. Tusen takk, Marie! Nålputa kommer til å bli flittig brukt.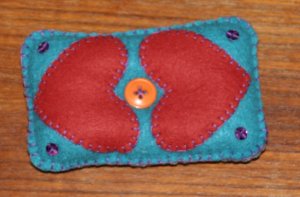 Denne uka var jeg dessuten (for første gang ever) innom strikkekafe. Det var veldig koselig å treffe mange strikkeglade og hyggelige damer, både "kjente" fra nettet, og andre. Tusen takk for en fin kveld damer! Vi ses nok snart igjen:-)

I realized that my boy needed a new (and more summer-ish) blanket, so I have started to crochet an easy ripple afghan. It is going quite fast. I'm crocheting 6 rows of each colour, and I have calculated that 4 stripes of each colour should give a blanket of size 1 x 1 meter. This project is also perfect to work with on the subway. On one trip to work I get to crochet ca 2 rows. (Well, if I work with it only on the subway it will take med 48 days to finish it. Which means that I have to find more time to crochet on it in order to finish it before the summer is gone.)
The very cute needle pillow is a gift from the owner of the blogDe små tingene i livet, I commented on the blogaversary post there, and I was so lucky to be drawn out to get a little present. Thank you, Marie!