Her kommer del to av symaskinproduksjonen, det kommer en del tre også, bare jeg får gjort unna de siste deltajene som må syes for hånd. Jeg har prøvd meg på tøffeloppskrifta til Ohelene. Disse er sydd i smalstripet kord fra ei avdanka bukse, og fóret er blå filt (litt tykkere enn den vanlige hobbyfilten). Desverre ble de i minste laget, men jeg overrasket meg selv med å i det hele tatt klare å sy noe som ligner på tøfler, så jeg er ikke redd for å prøve å sy noen større seinere en gang.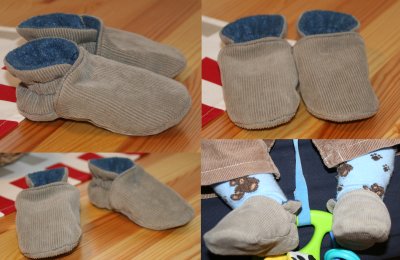 Lillegutt fikk boka "miffys forstørrelsesglass" til jul, og jeg fikk selvsagt lyst til å lage en liten matchende Miffy. Jeg bare tegnet av ansiktet fra boka, laget en passende kropp etter tegninger jeg fant på nettet, og sydde i vei. Min Miffy er langt fra perfekt, men du så morsomt å lage den!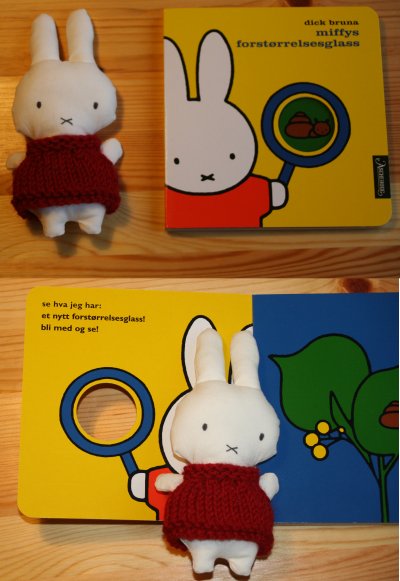 Forresten har zephyr-garnet jeg bestilte fra Usa endelig kommet fram, så nå er det Spring Shawl Surprise for alle penga:-) Morsomt å strikke, men det er et utrolig konsentrasjonsprosjekt, med mønster på både rettsiden og vrangsiden. Det blir spennende å se hvordan det blir til slutt.

Here are some new things made with the sewing machine. The baby shoes are made for pattern found in Ohelene's blog. They turned out to be a bit too small for my baby boy, but I'm just surprised that I actually have made something that even looks like shoes, so I'm not afraid to try to make a lager pair sometime later.
My boy got a book about Miffy for Christmas, and I just had to make a little Miffy to match the book:-) I made the pattern by copying the head from the book, and I made a body to go with it, by looking at drawings of Miffy on the web. It's far from perfect, but I had a great time making it!
I finally got the Zephyr yarn from US, so now I've started on the Spring Shawl Surprise. It is fun to knit, but the pattern is complicated so I have to stay totally focused while knitting on it. It is exciting to see how it will turn out in the end.