Endelig har jeg kommet i gang med hakkinga igjen. Etter min hukommelse var det 1. februar 2006 startskuddet gikk for Hakkalongen som MarianneG satte i gang. Planen var at man skulle hakke fire lapper hver måned, og nøyaktig ett år etter skulle man da ha de 52 lappene som skulle bli til teppe og pute, som på bildet her.
Men så skjedde det som ofte skjer når jeg melder meg på langvarige kaler, det går bra en stund, men så dukker det opp for mye annet i livet ellers. Til slutt ligger jeg så langt etter at det føles umulig å ta igjen resten av gruppa, og hele prosjektet parkeres.
Hakkinga mi parkerte 11. august 2006 (er det virkelig så lenge siden, tida flyr visst fort også..), men siden jeg nå har en liten gutt i huset og lappene mine er i blåtoner passer det godt å få ferdig teppet nå. Det vil bli fint som vognteppe til våren eller som sengeteppe når han skal ut av sprinkelsenga.
Jeg ble ivrig når jeg først satte i gang, så nå har fått ferdig fire nye lapper, og flere er på vei. Haugen har vokst til 28 lapper, og jeg nøyer meg med 20 til hvis teppet blir passe stort da.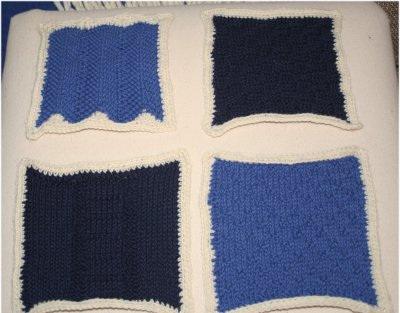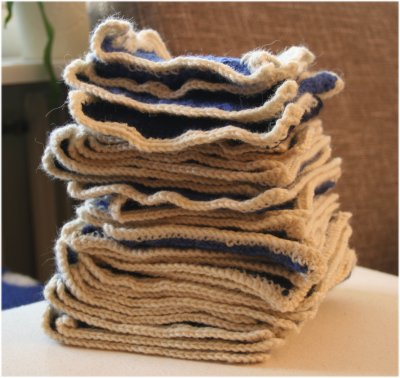 I finally started to make more tunisian crocheted squares for the afghan I started out on feb 1st 2006(!). About time to get that afghan finished! And since I have become a mother for a little boy since I started, my choice of colours is perfect. This will of course be an afghan for my little boy, for the trolley in the spring or for his bed.
It was such fun to make new squares, I've finished these four squares, and there are more squares under production here. I have (only) 20 more squares to make before I (hopfully) have an afghan with the right size.