Selv om julens budskap er like aktuelt hele året, er vel selve julekrybba litt utenfor sesong nå. Men siden jeg har kommet så godt i gang med "Bli kvitt ufoer"-året mitt (det holder ikke med ufo-uker for meg) satte jeg like godt i gang med å montere noen av figurene i julekrybben jeg begynte på for flere år siden. Jeg har faktisk strikket flere figurer, men med min monteringsvegring ble det tidlig klart at dette kom til å bli en ufo. For eksempel består en sau av sju bittesmå deler, med tilsammen 16 trådender.
Men som tidligere annonsert har jeg store planer om å ha krybba komplett til jul, så jeg beit tenna sammen og tok fatt på de små bitene. Så nå har jeg hovedpersonen og de ålreite dyra på plass:-)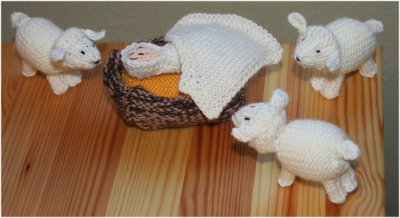 Det går også framover med "Spring Shawl Surprise"-sjalet, skal begynne på clue 4 nå, bilde kommer når det cluet er ferdig.

Well, I guess we have left the Christmas crib season, but I finally pushed myself into the horrible "sew all the tiny tiny pieces together and sew on tiny details"-phase for this crib I started to knit many years ago. I knitted many figures, but I of course didn't get as far as putting them together before the project lost my interest. But since I have started my "finish ufo's"-year (a week wouldn't do it for me…) I'm very eager to get the crib finished before Christmas.
I'm also knitting on my shawl for the Spring Shawl Surprise, I'm about to start on clue 4 now, you will see the progress here soon (hopefully).