Nå er det ikke mange dagene igjen. Vi har kommet i havn med våre gjøremål i førjulstida, så nå er det bare å slappe av og vente på at julen skal komme. (Siden julaften ikke feires hjemme har vi ikke tre og vi slipper å tilberede julmaten, så vi har det jo mer lettvint enn mange andre.)
Bloggen kommer nok til å ta seg en aldri så liten juleferie, så det gjenstår å ønske alle som er innom her en riktig god jul og et godt nytt år! Jeg setter utrolig stor pris på de koselige kommentarene jeg får her i bloggen ,og jeg henter mye inspirasjon fra bloggene deres og når vi snakkes på forumene, så jeg gleder meg til å se hva neste år bringer!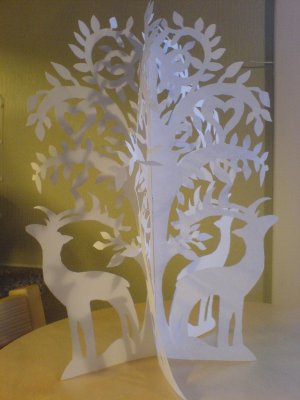 The Christmas holiday is only few days away. We are finished with all our Christmas preparation, so now we can just relax and wait for Christmas. My blog will also take a short Christmas break, so I want to wish you all a merry Christmas and a happy new year!