Det ble plutselig veldig kaldt her i hovedstaden, og lillegutt hadde bare vottene jeg strikket i babyull tidligere i høst, så det var på tide med et par nye. Disse vottene er strikket etter denne oppskriften fra Heges blogg. Mine er strikket i dobbelt pt2, og tovet først to ganger på 40 grader, deretter på 60 grader i maskina, etter 40 grader haddde vottene passet en 2-3 åring, det var 60-graders programmet som gjorde susen og fikk de til å bli størrelse ca 1 år. Fargene er kanskje litt uvanlige til å være babyvotter, men det eneste tovegarnet jeg hadde var rester etter da jeg strikket høne og kyllinger fra "Krymp!", så jeg hadde valget mellom rosatoner, oransjtoner eller grønntoner, og siden de skulle være til lillegutt var valget ganske lett:-)
Trøya fra Nøstebarn har vært ferdig en stund, har bare ikke fått tatt bilde av den før nå. Den er romslig til lillegutt nå, så det vil nok passe neste vinter også. Trøya er faktisk strikka av samme 100-gramsbunten som jeg strikket bodyen av, og enda er det et lite nøste igjen.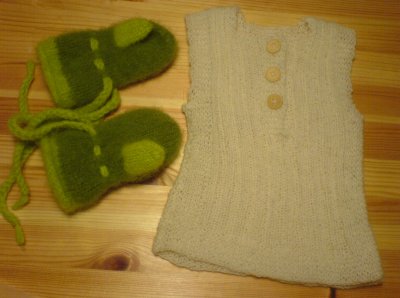 Apropos ullbodyen, den falt i smak hos lillegutt, bokstavelig talt. Kanskje det ikke var så lurt å strikke klær av samme garn som koseteppet hans, lillegutt elsker å spise på halskanten og på knappene. Nå er øverste del av knappestolpen helt tovet og den ser helt vindskeiv og rar ut. Knappene er faktisk opprinnelig plassert med like stor avstand, nå er mellomrommet mellom de to øverste knappene mye mindre enn mellomrommet mellom de nederste knappene. Knapphullene er også tovet, og det er virkelig vanskelig å få igjennom knappene. jaja, jeg får vel være glad han liker det jeg lager til han, og heller prøve å ha en tynn genser over så han ikke kommer til halskanten.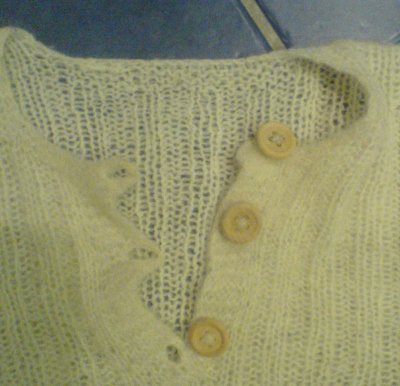 I've knitted a pair of mittens for my baby boy. Suddenly it got very cold here in Oslo, so he really needed a thicker pair of mittens. I found the pattern in Heges blog, but it is in Norwegian. The colors are perhaps a bit unusual for baby knit, but the only suitable yarn I had in my stash was leftover from when I made a felted hen with chickens, so I could choose between shades of pink, orange or green. The choice was easy:-)
I have also finished the baby tank top from Nøstebarn. It actually has been finished for a while, but I have forgotten to blog about it. The top is knitted from the same 100 gram skein as I knitted the baby bodysuit from, and it still a little ball of yarn left.
The last photo shows the neckline of the bodysuit. My little boy sure likes what I knit, he loves to chew on the neckline and on the buttons. Now the area around the tho upper buttons is felted, the spacing between the buttons was originally the same, but now the two first buttons are closer to each other than the two lower buttons. Also the button holes are felted, so it is difficult to get the buttons through. Well, I guess I should be happy when my baby likes what I knit for him…