Vårt første lys vi tenner
og stirrer mot det blå.
Vårt første lys vi tenner,
Guds sønn vi venter på
Vårt annet lys vi tenner,
for Jesus gjør vi det.
Vårt annet lys vi tenner,
snart får vi stjernen se.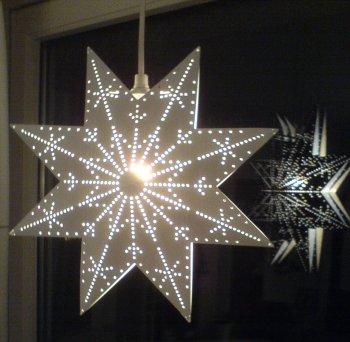 Adventsforberedelsene går sin gang. Vi har fått handla litt gaver (det er virkelig ikke så fristende lenger å skulle løpe rundt på kjøpesenter med barnevogn og til tider skrikende baby, men vi fikk til å handle tidlig en formiddag her, og det var deilig å slippe unna de store hordene av folk), jeg har planlagt hvordan årets innpakning skal være (jeg har alltid samme stil på pakkene, som varierer fra år til år, men det er aldri overmønstrete nissepapir, jeg har nissepapir-allergi…), og julekortene vi har bestilt har kommet, så nå er det bare å skrive på dem.
På strikkefronten er det ymse på pinnene, foruten det fra forrige post har jeg også begynt å Hermine-votter fra atypically.net, som skal havne under juletreet. Jeg er klar over at jeg strikker to venstrevotter, men planen er altså å strikke to høyrevotter også. Jeg hadde en idé om at det var lurt å strikke to like votter først når jeg først skal strikke to par, så jeg ikke går lei etter det første paret, men det gjestår å se om det virkelig er en god idé eller om det ender med en venstrevott for mye uansett.
Jeg har strikket et par før, og mønsteret er morsomt og det går fort unna, men jeg kom på nå at grunnen til at de ikke ble masseprodusert sist er at de ikke passer så godt til mine hender, og at det er umulig å få det helt pent rundt boblene. Det står i mønsteret at de med blokking skal kunne passe til alle damehender, men jeg har nok større hender enn forfatteren, for jeg har nå forlenget tommelen, og på den ene votten har jeg også flyttet tommelen lavere på votten slik at jeg får mer plass i toppen, for jeg liker ikke votter som sitter klistra til hendene. Nå er det heller ikke jeg som skal ha disse vottene, men jeg er usikker på håndstørrelsen til mottakerne, og jeg vil jo at de også skal like passformen på vottene.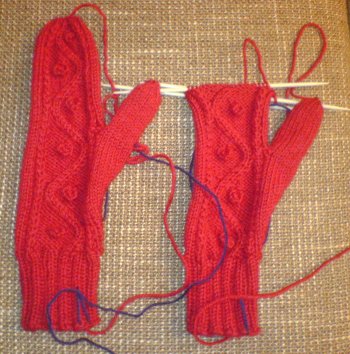 We are preparing for Christmas. We have bought some presents, even though it isn't very temping to go shopping in overcrowded centres, with our baby boy who generally hates shopping centres. I have planned how this years presents will we giftwrapped, I have different themes every year, and this year the theme is environmental friendly. The Christmas cards we ordered has arrived, so now we just have to write on them…
I've started on Hermione mittens from atypically.net, I knitted a pair of these some years ago, and no I wanted to knit two pairs for Christmas presents. Yup, I have two left hand mittens here, but I had this idea that to make sure I wouldn't get tired of knitting mittens before the two pairs were finished if I first knitted two similar mittens, It remains to see if it was a good idea, or if I will get tired, and end up with a useless single left hand mitten…
The pattern is fun and it is fast to knit, but I now remembered why I didn't knit more pairs last time. I find it impossible to get the area around the bobbles to be nice, and the size isn't optimal for my hands. They are a bit to small for my hands, but I have knitted more rounds on the thumb and the ribbing, and on one of these mittens I have lowered the start of the thumb, so I got more space at the top of the mitten, so hopefully the recievers will like them.