Det strikkes og strikkes, og det blir stadig flere prosjekter på pinnene her. Men jeg har visst ikke fått tid til å blogge om prosjektene på en stund, så her kommer en liten oppdatering.
Det uklare bildet under viser tre av fire prosjekter som fyller opp min ende av sofaen. Det blå er en ullbukse til lillemann (etter min iver etter å strikke klær som varer en stund ser det ut som om den blir enorm til en 7 måneders gammel gutt…), mønsteret er delvis hentet fra et Gjestal hefte, delvis etter egen fantasi og forgodtbefinnende. Det hvite er en ulltrøye fra Nøstebarn-boka. Det grønne er det sist påbegynte prosjektet, etter at fristelsen ble for stor da jeg kom over Juliet på Ravelry. Ravelry er et farlig sted å være når man allerede har nok prosjekter på pinnene.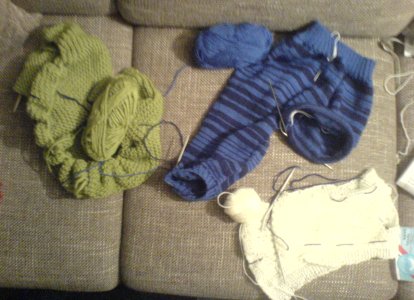 Det siste av prosjektene i sofaen er til Designeralongen på Hobbyboden. Jeg velger å holde kortene tett til brystet foreløpig, men jeg kan jo avsløre fargene jeg strikker med. Jeg er snart halvveis i strikkinga, og har begynt å skrive mønster, men det kommer nok til å ta litt tid før det er ferdig, og klart til å vises fram.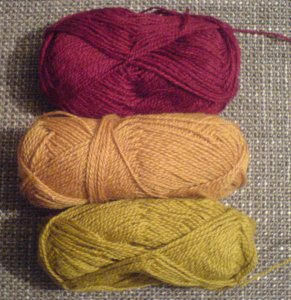 Til sist vil jeg vise dere sviblene mine som nå blomstrer, og sprer deilig lukt over hele leiligheten. (Det er visst delte meninger i husstanden her hvorvidt lukta er deilig eller ikke, men jeg nyter det i hvertfall:-) Det er meget mulig jeg må ut å kjøpe flere før jul når disse har blomstret ferdig…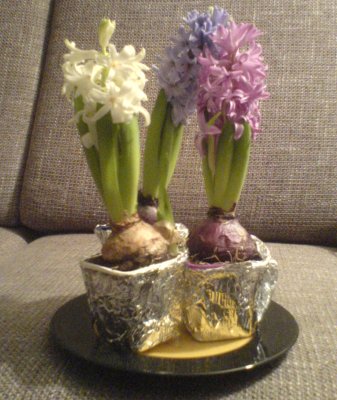 It has been a while since my last posting, but I have several projects on my needles, so it is about time to show the progress. The first photo (it isn't sharp, I know, but I didn't bother to take a new photo) shows tree of the four projects which occupy my half of the sofa. The blue one is a pair of longies for my little boy and the white is a baby tank top for that same boy. The green project is the newest one, started after a visit on Ravelry where I came across the cardigan Juliet. It's dangerous to spend too much time one Ravelry when one already has way too many unfinished projects…
The fourth project is for the moment a secret project. There is a design along on Hobbyboden, where one is supposed to make something crafty, and the patters will be collected and put on a own blog. I will not reveal what I'm knitting until I'm finished, but I can show the colors I'm using, which are the three skeins in green, yellow and red.
The last photo is of three flowers which appear in the flower shops in Norway before Christmas, called "Svibel" in Norwegian. I of course don't know the English name for it, but it has the most beautiful scent (well, my hubby doesn't totally agree on that…), which spreads around the whole apartment. I might have to buy more of them when these three are finished blossoming.