Jeg har blitt helt hekta på Nøstebarn, jeg elsker å strikke med Nøstebarn-garnet, og modellene er så fine. Jeg har virkelig fått sansen for det enkle, med bare riller eller ribbestrikk, og så er det fint at plaggene blir veldig fleksible og kan vokse med barnet lenge.
Nøstebarn-boka Strikk til nøstebarn fikk jeg i burdagsgave av svigers, og jeg bare elsker den boka! Så mange flotte bilder og fine oppskrifter. Jeg har lyst til å strikke det meste. Jeg er til og med i ferd med å lage en liste med alt jeg vil strikke til lillegutt derfra, og så fordele etter størrelsene og strikke slik at han har plagg fram til han er fem-seks år… (Ja, jeg vet dette grenser til galskap, med tanke på at han er 6 måneder gammel nå…) Jeg tror rett og slett dette er en av de beste strikkebøkene jeg har (om ikke den aller beste), så løp og kjøp!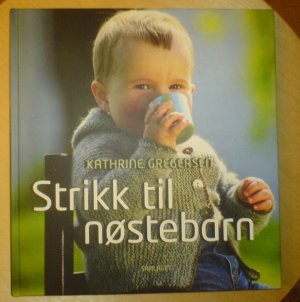 Ullbodyen har vært ferdig i et par uker allerede, den har til og med vært i bruk. Lillegutt så ut til å kose seg i den, god og varm selv om den er strikket nokså luftig. Jeg har planer om å strikke et par ulltrøyer også, tror de kan være kjekke å ha uten på bomullsbodyene nå som det begynner å bli litt gulvkaldt. (Ja, jeg vet det er klønete å få med sine egne tær i hjørnet på bildet.)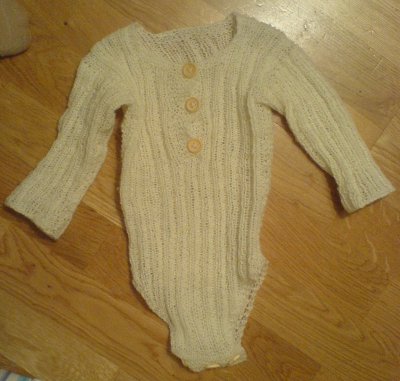 Pattern:From the book Strikk til nøstebarn
Yarn: Merino wool from Nøstebarn, less than 100 gr.
Needles:4.5 mm.

Well, I guess the post today is not so interesting for readers in other countries, since the book Strikk til nøstebarn is only available in Norwegian. But the book is fantastic! I think it might be the best book I have on knitting, it contains many lovely patterns for children, very plain models in garter, stockinette or rib, but I really love the simple look, and the models are very flexible, and the clothes can "grow" with the child. The pattern for the bodysuit is also in the book (earlier these patterns could be bought separately with yarn from Nøstebarn), and I finished it a couple weeks ago. My little boy has already tried it on. He seemed to like it:-) It is very warm even though it is knitted in thin yarn with larger needles.