Endelig klarte jeg å få ferdig april/mai-sokkene i Six Sox-knitalongen. Jeg hadde strikket en og en halv sokk før lillegutt ble født, og siden har det tatt meg fem måneder å fullføre siste rest. 🙂 Jeg som var så godt i rute for å få de ferdige tidsnok for en gangs skyld…
Sokkene heter Horcrux socks, fordi det på skaftet er "Harry Potter"-lyn. Det er dessuten første gang jeg tester ut Opal-garn. Var veldig morsomt å strikke med, det ble en ekstra inspirasjonskilde å følge med på hvordan sokken ble etterhvert som jeg strikket.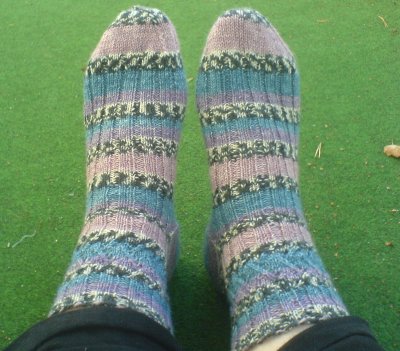 Det gikk opp for meg her nå som det har blitt kaldere i været at lillegutt trenger litt av hvert av ullplagg framover. Jeg begynte på et par votter, etter en variasjon av mønster fra Garnstudio. Men jeg hadde ikke riktig garn, og gadd ikke å bry meg med strikkefastheten siden det bare var snakk om en liten vott.. Så først så den grønne votten i Nøstebarn-ull dagens lys. Den passa, men var ikke for stor akkurat, så siden jeg hadde planer om å strikke noe som varer litt lenger enn akkurat nå, så begynte jeg på den samme votten i babyull fra Gjestal, fortsatt uten å bry meg med strikkefastheten. Begge vottene er omtrent like store, og begge skal rekkes opp…Men det er nye votter på pinnene, og denne gangen har jeg tatt ordentlig i 🙂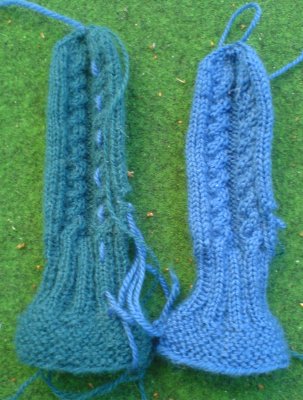 I finally managed to finish the april/may socks from the Six Sox knitalong. I had finished one and a half sock before our little by was born, and then it took me five months to finish the last half sock. 🙂 The socks are called "The horcrux socks" since there are Harry Potter scars around the leg. This was the first time I tried to knit with Opal yarn, and that was fun. It even made me extra motivated, since I was very curious to se how the colours of the sock turned out while I was knitting.

It's getting colder here in Norway now, and I realized that our lille boy needs several clothes in wool. I started to knit mittens, with an altered version of this pattern (in Norwegian). I didn't have the recommended yarn, and I didn't bother to check the gauge. I first knitted the green mitten, it turned out to fit exact, but I wanted to knit something that would last a bit longer. So then I tried again with another yarn, still not caring about the gauge, and it came out the same size as the green. Both mittens will be frogged.. But I have new mittens on my needles now, and this time they will be large enough to last for a while.