Her er det babystrikk på pinnene, det gjelder å henge i om lillegutt skal ha nok ulltøy før vinteren setter inn. En lue er ferdig, og en ny er på pinnene. I tillegg har jeg kommet godt på vei med en nøstebarn-body, jeg skal strikke lange ermer på den også.
Jeg har blitt mer og mer glad i nøstenbarnoppskriftene, Rema 1000 slagordet "Det enkle er ofte det beste" funker bra for disse oppskriftene også, for det første liker jeg stadig bedre bare ribbestrikk eller rillestrikk, og måten en del av klærne strikkes på gjør de veldig fleksible, slik at de varer lenger. Jeg har et godt håp om at ullbodyen vil fungere både denne vinteren og neste.
Da gjenstår det bare å ønske alle som er innom en riktig god helg!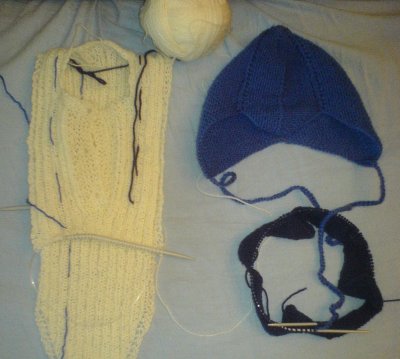 I'm knitting baby clothes as fast as I can, still hoping that I will manage to knit what my baby boy need for the Norwegian winter before the winter is here. I have finished the blue baby hat, and new dark blue one is on its way. I'm also knitting a baby bodysuit (I hope that is the right English word) , the pattern is from Nøstebarn. I really like the patterns from Nøstebarn, the patterns are simple, and I like the simple look of rib or gar ter stitch, and that also makes the clothes more stretchy, so they will last longer.
I wish you all a great weekend!