Lillegutt skal døpes på søndag, så helga har gått med til diverse forberedelser. Jeg har blant annet bakt muffins og sukkerbrød (pluss et mislykka forsøk på verdens beste. Jeg skal prøve en gang til, men lykkes det ikke denne gangen så får mamma trå til:-) Muffinsene ble ihvertfall saftige og gode.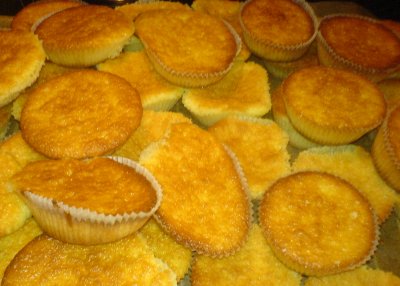 Bordkort er også noe som hører med. Her måtte også min kjære hjelpe til med å klippe ut det som føltes ut som en enorm mengde med kartongbiter. Den lille guttefiguren er laget med en parpirstanser. Planen var å stanse igjennom den lyseblå kartogen, men papirstanseren klarte ikke å komme seg igjennom så tykk kartong, så jeg måtte stanse de ut i tynnere papir, og lime de på. Det tok også tid å tre silkebånd gjennom bordkortet, og så prøve å knyte en så liten og pen sløyfe som mulig. Men de ble heldigvis ferdige til slutt. Vet ikke om de ble helt som jeg hadde sett for meg i hodet, men de er greie nok:-)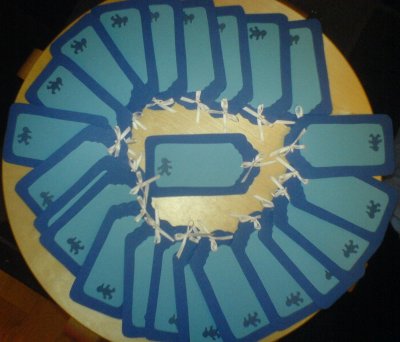 My sons baptims is this Sunday, so during the weekend I have baked cakes and made place cards for the dinner table. It took some time cutting out all the pieces, and then make the small bows. But I finished then at last (with some help from my husband). They didn't turn out exactly as I wanted, but I guess they are okey.