Bloggen har visst hatt både sommerferie og mammapermisjon, men det er flere håndarbeidsprosjekter underveis, så jeg satser på at det skal bli mer liv her snart.
I mellomtida kan jeg stolt vise fram årets avling:-) Gulrøttene som har vokst i en melkekartong på balkongen hele sommeren var klare for innhøsting nå. Min bedre halvdel hadde lyst til å tynne i avlingen etter at gulrøttene hadde spirt, men jeg synes så synd på de stakkars gulrotplantene som da måtte opp av jorda, så alle fikk vokse videre. Det forklarer vel størrelsen på gulrøttene, men om de er små så er de ihvertfall veldig søte og gode. Neste år skal vi nok satse med flere balkongkasser og større produksjon. Det er koselig å kunne fylle opp balkongen med planter, så kan man sitte der og drømme om at man er på landet i egen hage, i stedet for i en balkong i byen:-)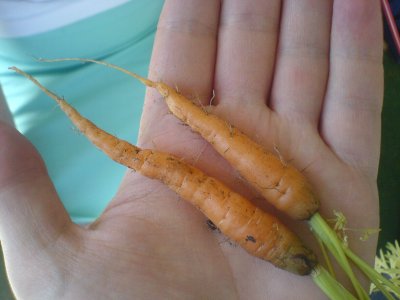 Harvesting the carrots
I proudly present our carrots grown in our apartments balcony:-) It is really fun to grow own vegetables, even though the carrots are tiny. But since they are so tiny they taste very sweet. Next year I guess we will have many more plants an d vegetables in our balcony, it is nice to sit in a balcony with a lot of plants, and imagine that we are sitting out in the countryside, and not in the city.
I have several on-going craft projects, but with our (soon four moths old) son to take care of, everything takes time.