Det har ikke blitt så mye tid til håndarbeid etter at vi ble foreldre, men nå begynner vi å få litt rytme og rutine på dagen, så jeg får stadig gjort litt mer enn å amme, stelle og vogge. Hello Kitty er visst i vinden igjen har jeg skjønt, så jeg ble inspirert til å hekle denne pungen.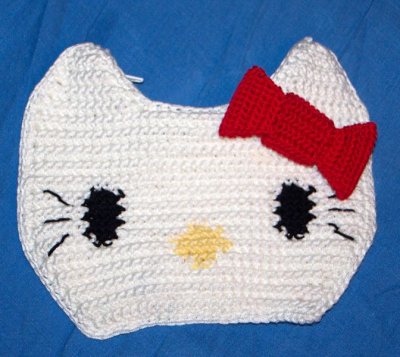 For å montere glidelåsen broderte jeg kontursting langs glidelåsen i omtrent samme stinglengde som fastmaskene i pungen, og så heklet jeg glidelåsen fast fra rettsiden av arbeidet, ved å stikke heklenåla gjennom både pungen og et kontursting fra glidelåsen. Dette er et triks jeg har plukket opp fra et eller annet sted jeg ikke husker nå, og som egnet seg bra her ihvertfall, glidelåsen sitter pent.



I haven't had much time for crafting since I became a mother, but now we have got some routine, and I get to do something else than nursing the baby. Hello Kitty is very popular again (at least here in Norway) so I was inspired to make this pouch. To add the zipper I first embroidered stem stitches along the zipper, where the stitches have the same length as the simple crochet stitches of the pouch, and then I crocheted the zipper onto the pouch from the right side by pulling the crochet needle through both the pouch and a stem stitch.